Make everyone in your home smile this season with these 10 popular Christmas recipes in Trinidad and Tobago. Bring the scents and flavours of a true Trinbago Christmas to your loved ones no matter where in the world you are situated.
These Christmas recipes allow you to use ingredients that you can find at your local supermarket and the directions are easy to follow. When using these Christmas recipes, remember that you can add or leave out ingredients to give them your personal touch.
This article offers 10 of the most popular Christmas recipes in Trinidad and Tobago. Also, there are links to numerous related articles with Christmas recipes, products and gifts to keep you busy for the season.
10 Most popular Christmas recipes in Trinidad and Tobago
1. Sorrel
Ingredients
2 cups dried sorrel petals
8 cups water
1 to 1 ½ cups granulated sugar (adjust to taste)
4-6 cloves
2-3 cinnamon sticks
1-2 inches of fresh ginger, peeled and sliced
Optional: rum (if making an alcoholic version)
Optional: orange peel or zest (for added flavour)
Instructions
Rinse the dried sorrel petals under cold water to remove any debris.
In a large pot, bring the water to a boil. Add the sorrel petals, cloves, cinnamon sticks, and ginger to the boiling water.
Reduce the heat to low and let the mixture simmer for about 10-15 minutes. The liquid will start to turn a deep red colour.
Turn off the heat and allow the mixture to cool. Once cooled, strain the liquid into a pitcher or large bowl, pressing the sorrel petals to extract all the flavours.
Add sugar to the strained liquid, adjusting the sweetness to your preference. Stir well until the sugar dissolves completely.
If you desire an alcoholic version, you can add rum to the mixture to taste. Be cautious and adjust the amount based on your preferences.
Allow the sorrel drink to chill in the refrigerator. It's often served over ice when ready to drink.
Optionally, you can add a twist of orange peel or zest for additional citrus notes before chilling.
This sorrel makes a refreshing and flavourful beverage that can be served during festive occasions or simply enjoyed on a hot day. It can be stored in the refrigerator for several days. Adjust the sweetness and additional spices according to your taste preferences. To see more sorrel recipes, follow the links below.
2. Ponche De Crème
Standard Ponche a Crème Recipe
Ingredients
Instructions
Ready a large bowl or wide-mouth pitcher and fine mesh sieve.
Beat the eggs and lime until very frothy.
Add the evaporated and condensed milk, and mix for 2 minutes.
Slowly add the rum, then mix for another 2 minutes.
Add the spices and Angostura Bitters and stir for 1 minute.
Strain the Ponche a Crème through the sieve into the pitcher or bowl.
Serve immediately on the rocks with a dusting of nutmeg or cinnamon.
This preparation could be used for the other recipes. You may use a hand or stand mixer instead of mixing by hand.
For flavoured Ponche a Crème recipes follow this link:
3. Sweet Bread
Ingredients
4 cups flour
1 dried coconut (3 cups grated coconut)/2 cups coconut milk
1 cup raisins
1 cup mixed fruits
4 teaspoons baking powder
½ teaspoon salt
1 cup sugar
1 teaspoon nutmeg
1 teaspoon vanilla essence
1 cup evaporated milk
1 cup butter
PC-like power. Now in your pocket.
Meet the phone with a big screen like a mobile movie theater. The one that's both an exciting game console and a multi-screen, multitasking workhorse. And topped off with a powerful, pro-grade camera. All folded into your hands.
Directions
Grate coconut, cream the butter and, if possible, soak raisins the night before.
Add flour, baking powder, sugar and salt to mixing bowl.
Mix in grated coconut or coconut milk.
Add evaporated milk, nutmeg, essence and melted butter.
Stir with a spoon until batter is fairly stiff.
Pour batter into 2 greased baking pans.
Bake at 350 degrees F or high for 45-60 minutes or until an inserted tooth pick comes out clean.
Brush the top with melted butter, sprinkle with granulated sugar and return to the oven for 2-3 minutes.
Serve Sweet Bread with butter, cheese or by itself.
To read more about Sweet Bread, follow this link:
4. Black Cake
Ingredients
For the fruit mixture:
1 pound mixed dried fruits (raisins, prunes, currants, cherries, etc.)
1 cup rum
1 cup cherry brandy or red wine
1 cup port wine
1 cup sherry
For the cake batter:
1 cup butter (at room temperature)
1 cup brown sugar
6 large eggs
2 cups all-purpose flour
2 teaspoons baking powder
1 teaspoon mixed spice (combination of cinnamon, nutmeg, and allspice)
1 teaspoon vanilla extract
1 tablespoon browning (burnt sugar)
1 cup almond powder or finely ground almonds
Get a guaranteed £100 off when you trade in any smartphone in any condition*

Plus, we'll double your storage to get 512GB for the price of 256GB*
Instructions
Fruit preparation:
Finely chop the mixed dried fruits or pulse them in a food processor.
Place them in a large glass or plastic container.
Pour the rum, cherry brandy, port wine, and sherry over the dried fruits.
Stir well to combine.
Cover the container and let the fruits soak for at least a week (or up to a few months) in a cool, dark place.
Stir occasionally to ensure the fruits absorb the liquid.
Cake preparation:
Preheat the oven to 300°F (150°C).
Grease and line a cake pan with parchment paper.
In a large mixing bowl, cream the butter and brown sugar together until light and fluffy.
Add the eggs one at a time, beating well after each addition.
In a separate bowl, sift together the flour, baking powder, and mixed spice.
Gradually add the dry ingredients to the creamed mixture, stirring well.
Add the vanilla extract and browning (burnt sugar) to the cake batter and mix thoroughly.
Fold in the prepared fruit mixture and almond powder into the cake batter until well combined.
Pour the batter into the prepared cake pan, ensuring it is evenly spread.
Bake in the preheated oven for about 2 to 2.5 hours or until a skewer inserted into the centre comes out clean.
Once baked, let the cake cool in the pan for about 10-15 minutes, then transfer it to a wire rack to cool completely.
For extra richness, 'feed' the cake by brushing it with additional rum or brandy while it cools.
Wrap the cooled cake in parchment paper and aluminium foil and store it in an airtight container for at least a week before cutting. This allows the flavours to mature and deepen.
To read a personal account about Black Cake, follow this link:
5. Ginger Beer
Ingredients
1 pound green ginger
2 limes
3 cloves
1 stick cinnamon
¼ cup sugar
½ cup club soda
4 cups water
Directions
Wash ginger; leave or peel skin; and grate or chop it into smaller pieces.
Cut limes in half, squeeze juice in cup and keep the rind.
Option 1
Add to bowl the ginger, lime juice, rind, cloves, cinnamon and water.
Leave to ferment for at least 24 hours.
Strain liquid in jug; add sugar and club soda, then refrigerate.
Option 2
Add to pot over medium fire the ginger, lime juice, rind, cloves, cinnamon and water.
Boil for 20 minutes.
Leave to ferment for at least 24 hours.
Strain liquid in jug; add sugar and club soda, then refrigerate.
To see the health benefits of ginger beer follow this link:
6. Homemade Bread
Ingredients
6 ½ cups all-purpose flour
1 package (¼ ounce) active dry yeast
½ tablespoon baking powder
3 tablespoons sugar
½ tablespoon salt
3 tablespoons butter
2 tablespoons vegetable oil
1 cup milk
2 ¼ cups warm water
1 egg (optional)
Directions
Stir yeast and sugar in ¼ cup warm water in a large mixing bowl.
Add 3 cups of flour, butter, baking powder, oil and salt, then mix with hands, spoon or mixer.
Beat egg separately and add to mixture if you are going with this option.
Pour milk and 1 cup warm water in the middle, then stir slowly.
Add ½ cup at a time: 2 ½ cups flour and the remaining 1 cup water.
Knead the mixture until smooth and soft.
Sprinkle ½ cup flour on a flat surface and knead dough until smooth and elastic.
Use ½ cup flour to remove extra dough from hands, spoon or mixer.
Cut dough in 2 pieces.
Flatten each piece with a rolling pin or bottle.
Hold 2 ends of the flattened dough and roll into a loaf.
Grease the loaf pans and place loaves.
Cover and let rise for about 15 minutes.
Bake at 375 degrees F for 30-35 minutes or until golden brown.
Remove bread from pans to cool for 10 minutes before slicing.
To see more bread recipes, follow these links:
7. Chow Chow
Chow Chow is a popular condiment/relish made with pickled vegetables. It pairs well with everything, from ham, turkey, pastelles and even hot dogs and even hamburgers. Here is a simple recipe for homemade Chow Chow this Christmas.
Ingredients
½ cup onion, chopped
12 cloves (peeled)
5 tablespoons sugar
2 tablespoons turmeric
2 ½ cups vinegar
2 ½ tablespoons mustard
1 ½ teaspoons cinnamon
2 tablespoons cornstarch
1 ½ tablespoons grated ginger
Instructions
In a large saucepan, combine the chopped onion, whole cloves of garlic, sugar, turmeric, vinegar, mustard, cinnamon, and grated ginger. Stir the mixture well to combine all the ingredients.
Place the saucepan on the stove over medium heat and bring the mixture to a boil. Once boiling, reduce the heat to low and let it simmer for about 5-7 minutes, allowing the flavours to meld.
In a small bowl, make a slurry by mixing the cornstarch with a little water to create a smooth paste.
Gradually add the cornstarch slurry to the simmering mixture while continuously stirring. This will help thicken the Chow Chow relish. Cook for an additional 2-3 minutes, or until the mixture reaches the desired consistency.
Remove the saucepan from the heat and discard the whole cloves.
Let the Chow Chow relish cool down to room temperature.
Once cooled, transfer the relish to sterilised jars or containers for storage.
Refrigerate the Chow Chow. Its flavours will continue to develop over time, so it's best to allow it to sit for at least a day before serving.
8. Pastelle
Ingredients
For the filling:
1 lb ground meat (beef, pork, chicken, or minced soya)
1 onion, finely chopped
2 cloves garlic, minced
1 tablespoon green seasoning (a blend of herbs like cilantro, culantro, (Chadon Beni), chives, and more)
1 teaspoon Worcestershire sauce
1 teaspoon soy sauce
1 teaspoon tomato paste
1 teaspoon paprika
1 teaspoon cumin
Salt and pepper to taste
2 tablespoons oil for cooking
For the cornmeal dough:
2 cups cornmeal
3 cups water
2 tablespoons butter or margarine
Salt to taste
For assembly:
Banana leaves or parchment paper
Kitchen twine or foil to tie the pastelles
Key Features
• Center Oval Burner
• Dishwasher-Safe Cast-Iron Grates
• SpeedHeat™ Burner
• Keep Warm setting
• Large Oven Window

Sale: US$799.00 MSRP: US$1,025.00 Save US$226.00 (22%)
Instructions
Filling preparation:
Heat the oil in a pan over medium heat. Add the onions and garlic, sauté until softened.
Add the ground meat and cook until browned. Drain any excess fat.
Stir in the green seasoning, Worcestershire sauce, soy sauce, tomato paste, paprika, cumin, salt, and pepper. Cook for a few minutes until the flavors combine. Set aside to cool.
Cornmeal dough preparation:
In a separate saucepan, bring the water to a boil. Gradually whisk in the cornmeal, stirring continuously to prevent lumps.
Add the butter and salt. Reduce the heat to low and continue stirring until the mixture thickens and pulls away from the sides of the pan.
Assembly:
Prepare the banana leaves or parchment paper by cutting them into squares (about 8×8 inches).
Place a portion of the cornmeal dough onto a banana leaf or parchment paper and flatten it into a small square or rectangle.
Spoon a portion of the meat mixture onto the center of the dough.
Fold the banana leaf or parchment paper to encase the filling and form a rectangular package. Tie the package securely with kitchen twine or wrap it in foil.
Cooking:
Steam the pastelles in a steamer for about 45 minutes to 1 hour until the cornmeal is cooked and set.
Serve:
Once cooked, let the pastelles cool before unwrapping them.
Serve and enjoy this delicious Trinidadian holiday dish!
Note: Banana leaves impart a unique flavour to the pastelles. If you can't find banana leaves, parchment paper or foil can be used as a substitute. Adjust the filling and dough quantities based on the number of pastelles you intend to make.
To get a personal account of making pastelles, follow this link:
9. Ham
Here's a guide on how to boil a ham:
Ingredients
1 whole ham (bone-in or boneless)
Water
Aromatics and spices (optional, such as bay leaves, cloves, peppercorns, or herbs)
Instructions
Prepare the ham:
If the ham is packaged, remove it from its wrapping.
If it's too salty, you might consider soaking it in cold water for a few hours or overnight before cooking. However, not all hams require soaking.
Boil the ham:
Place the ham in a large pot or stockpot. If the ham is too large for your pot, you can cut it into pieces that fit comfortably.
Cover the ham with water. The water level should be enough to fully submerge the ham.
Add optional aromatics and spices, like bay leaves, cloves, peppercorns, or herbs, to infuse additional flavour.
Bring the water to a boil.
Simmering:
Once the water comes to a rolling boil, reduce the heat to low to maintain a gentle simmer.
Cover the pot with a lid and let the ham simmer.
The cooking time will vary based on the size and type of ham. A general rule is to allow about 20 minutes per pound for a fully cooked ham. It's recommended to check the specific instructions that came with the ham.
Checking doneness:
To check if the ham is cooked, use a meat thermometer to ensure it has reached an internal temperature of 140°F (60°C) for reheating or 145°F (63°C) for pre-cooked hams.
Insert the thermometer into the thickest part of the ham without touching the bone, if present.
Resting the ham:
Once the ham is fully cooked, remove it from the pot and let it rest for about 10-15 minutes before carving. This resting period allows the juices to redistribute, resulting in juicier and more flavourful meat.
Carving and serving:
Carve the ham into slices or pieces, and serve it warm. It's delicious as a main course, for sandwiches, or as part of various recipes.
Boiling a ham is a simple and effective way to cook this meat, and it's often paired with glazes or sauces for added flavour. Adjust the seasoning and flavouring according to your preferences for a tasty boiled ham.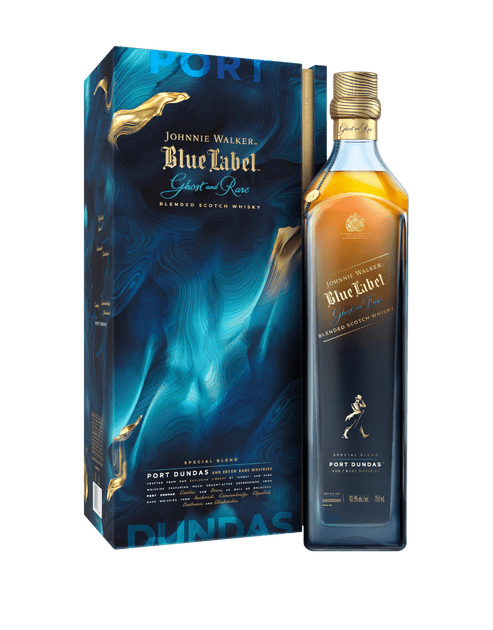 The fifth release in the award-winning Johnnie Walker Blue Label Ghost and Rare series of limited editions, Johnnie Walker Blue Label Ghost and Rare Port Dundas, explores the character of exceptional and rare whiskies from one of the world's most famous Grain Whisky distilleries, the Glasgow "ghost" distillery of Port Dundas.
This renowned distillery, nestled on the banks of the Forth and Clyde Canal, shipped its distinct Scotch from Glasgow to ports across the world for nearly 200 years. Built in 1811, at the highest point in the city's rich commercial history, Port Dundas became a whisky blending powerhouse. Eventually growing to become a distillery known for its distinctive sweet and delicate Grain character before it closed in 2010.
Starting at US$426.00
Here's a guide on how to bake a ham:
Ingredients
1 whole ham (bone-in or boneless)
Glaze ingredients (optional)
Common glaze ingredients can include brown sugar, honey, maple syrup, mustard, cloves, pineapple juice, or orange juice.
Instructions
Prepare the ham:
Preheat your oven to 325°F (163°C).
If the ham is packaged, remove it from its wrapping. You can score the surface of the ham in a crisscross pattern, making shallow cuts about 1/4 inch deep. This allows the glaze to penetrate and adds an appealing appearance.
Place the ham in a roasting pan:
If the ham is too large for the pan, you can cut it into manageable pieces.
You can use a rack in the roasting pan to elevate the ham, allowing heat to circulate evenly around it.
Glazing the ham:
If you're using a glaze, prepare it by mixing your desired ingredients in a bowl. A common glaze might include brown sugar, honey, mustard, and other preferred spices or juices.
Brush or spoon the glaze all over the ham, ensuring it's well coated.
Baking the ham:
Place the ham in the preheated oven.
Bake the ham uncovered. Estimate the cooking time based on the ham's weight. For a fully cooked ham, the general rule is about 15-20 minutes per pound.
If using a meat thermometer, the internal temperature should reach 140°F (60°C) for reheating or 145°F (63°C) for pre-cooked hams.
Glazing throughout:
Periodically, every 20-30 minutes, baste the ham with the pan juices or any remaining glaze. This adds more flavour and creates a nice caramelized crust.
Resting the ham:
Once the ham is done, remove it from the oven. Let it rest for about 10-15 minutes before carving. This allows the juices to redistribute, resulting in moister meat.
Carving and serving:
Carve the ham into slices or pieces, and serve it warm. It's a delightful main course for various occasions and pairs well with sides like roasted vegetables, potatoes, or a fresh salad.
Baking a ham is a classic and tasty way to cook this meat. The glaze options allow for creativity and customisation to suit your preferences. Adjust the glaze ingredients and baking time based on your desired flavours and the size of the ham.
10. Turkey
Baked turkey is a must-have during the Christmas season, with or without stuffing, it is always a favourite for Christmas lunch. Here's a step-by-step guide on how to bake a turkey:
Ingredients
1 whole turkey (12-24 pounds, depending on the number of servings needed)
Salt
Black pepper
Herbs and spices for seasoning (optional)
Melted butter or olive oil
Stuffing ingredients (if desired)
Instructions
Thaw the turkey:
Ensure the turkey is completely thawed before cooking.
Thaw it in the refrigerator following safe food handling guidelines. This process can take several days, depending on the turkey's size. Never thaw a turkey at room temperature.
Preheat the oven:
Preheat your oven to 325°F (163°C).
Prepare the turkey:
Remove the giblets and neck from the turkey cavity. These are often found in a bag inside the bird.
Rinse the turkey thoroughly under cold water and pat it dry with paper towels.
Season the inside and outside of the turkey with salt, pepper, and any desired herbs or spices. Be generous with the seasoning, as this adds flavor to the meat.
Stuff the turkey (optional):
If you choose to stuff the turkey, prepare the stuffing separately and stuff it into the bird's cavity just before roasting. Ensure the stuffing reaches a safe internal temperature when the turkey is done.
Truss the turkey (optional):
Trussing the turkey (tying the legs together with kitchen twine) can help the turkey cook more evenly.
Place in roasting pan:
Place the turkey on a rack in a roasting pan. This elevates the bird, allowing the heat to circulate and cook it more evenly.
Brush the turkey with melted butter or olive oil for a crispy, golden skin.
Roasting the turkey:
Cover the turkey loosely with foil for the first part of the cooking process to prevent excessive browning. Remove the foil during the last hour of cooking to allow the skin to brown.
Estimate the cooking time based on the turkey's weight. A general rule is around 15 minutes per pound, but using a meat thermometer is the most accurate way to determine doneness. The turkey is safe to eat when it reaches an internal temperature of 165°F (74°C) in the thickest part of the thigh and the stuffing, if used.
Baste the turkey with the pan drippings or additional melted butter throughout the cooking process to keep it moist.
Resting the turkey:
Once the turkey is done, remove it from the oven and allow it to rest for about 20-30 minutes before carving. This allows the juices to be redistributed, resulting in juicier meat.
Carving the turkey:
Once rested, carve the turkey into desired portions and serve with your favourite sides and sauces. Enjoy your delicious baked turkey.
_____________________________
When you buy something through our retail links, we may earn commission and the retailer may receive certain auditable data for accounting purposes.
You may also like:
Freshen up your dinner routine with fresh, pre-measured, seasonal ingredients and easy-to-follow recipe cards, delivered to your door each week! Including meal plans with food preferences that suit your lifestyle, you can choose from 30+ new recipes every week.