Sir Edmond Gin offers two premium gift boxes in a value-added packaging for those who know or want to discover the brand: The Gift Box Large contains a bottle of Sir Edmond Gin and features a set of bar equipment: two Copa glasses, two bottles of Fever-Tree Premium Indian tonic, a jigger, a pourer, a bar spoon, and a garnish tray.
A video card and brochure with recipes are also included and share the rich brand story of Sir Edmond Gin. The video card takes you on a journey to Reunion Island, where the main ingredient Bourbon vanilla comes from.
Inspired by the Michelin star chefs, who use this magical ingredient in their kitchen, the video card shows the start of the Bourbon vanilla infused adventure. The Gift Box Large is ideal as a gift for your loved one or that one friend who is a real gin lover.
The Gift Box Small, which contains two Copa glasses along with a bottle of Sir Edmond Gin and features the brand story and recipes for their perfect serves printed on the back of the box. The Gift Box Small is the perfect gift for a birthday or to give with the holiday season.
Made with premium stainless steel grade metal.
6 piece Boston Cocktail Shaker Set includes:
2 Piece Boston Shaker 25oz & 20oz /750ml & 600ml
1 Strainer
1 Jigger .5oz/1 oz
1 Bar Spoon
1 Muddler
1 Ice Tongs
The experience begins as soon as you open the gift box
Julia Keijzer, Brand Manager of Sir Edmond Gin: "With the launch of these new premium Gift Boxes, we would like to offer a gin experience instead of a single bottle with some extra tools. For example, our Sir Edmond Gin Gift Box Large. The experience begins as soon as you open the box.
"The first layer contains a video card with our brand movie. If you prefer to read, you will find our brochure under the video card. Our brochure contains the brand story, about our main ingredient Bourbon vanilla, the production process and lots of G&T and cocktail recipes. Last but not least you will find more information about our partnership with the African Wildlife Foundation, which we feel is really important to support.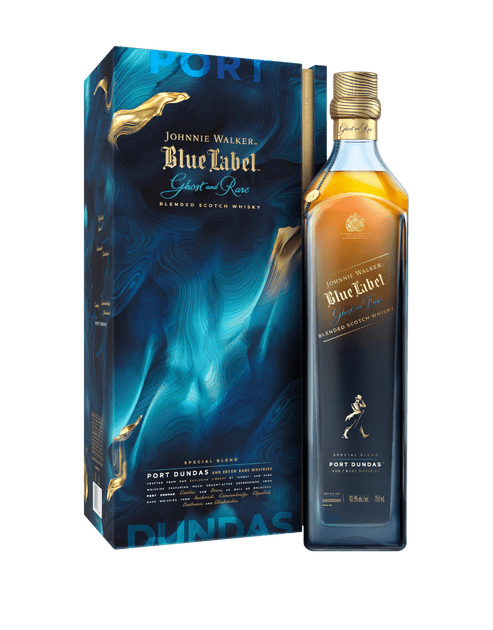 The fifth release in the award-winning Johnnie Walker Blue Label Ghost and Rare series of limited editions, Johnnie Walker Blue Label Ghost and Rare Port Dundas, explores the character of exceptional and rare whiskies from one of the world's most famous Grain Whisky distilleries, the Glasgow "ghost" distillery of Port Dundas.
This renowned distillery, nestled on the banks of the Forth and Clyde Canal, shipped its distinct Scotch from Glasgow to ports across the world for nearly 200 years. Built in 1811, at the highest point in the city's rich commercial history, Port Dundas became a whisky blending powerhouse. Eventually growing to become a distillery known for its distinctive sweet and delicate Grain character before it closed in 2010.
Starting at US$426.00
"The next layer of the box contains almost everything you need to make a perfect serve with Sir Edmond Gin. Only the ice cubes are missing. Therefore, it is perfect to give as a gift.
The Gift Boxes can also be used as promotional gifts for companies that want to show their appreciation towards their employees or business relations. Whether it's for Christmas or any other time of the year, Sir Edmond Gin can personalise any gift.
"At the same time, packaging is something we value and these boxes are of such good quality that the boxes last a long time. While respecting nature the boxes are also FSC certified, which guarantees responsible origin from sustainably managed forests or recycling. The responses we get are praiseworthy and that gives us a lot of energy to keep innovating."
Both Gift Boxes are available for purchase through offline and online stores, such as Topdrinks in the following countries: The Netherlands, Belgium, France, Austria, Denmark, Germany and Monaco.
Want to know more about Bourbon vanilla, Gin & Tonic, cocktails and the story behind Sir Edmond
Gin?
Visit siredmondgin.com.
_____________________________
When you buy something through our retail links, we may earn commission and the retailer may receive certain auditable data for accounting purposes.
You may also like:
Exotic, rich and lively.
Nectar Impérial is the boldest and most unexpected Moët & Chandon champagne. It reflects the diversity and complementarities of the three champagne grapes and the richness of the region's best vineyards to reveal the magic of the world's most loved champagne. Creamy and vibrant, Nectar Impérial distinguishes itself by the richness of tropical fruits (pineapple and mango), rounded out by the silkiness of fresh plum and apricot, and finishing with bracing grapefruit notes.
Bottle Size: 750ml
Please Drink Responsibly.