Becoming a social media manager involves several steps to acquire the necessary skills and experience to effectively manage social media platforms for individuals or businesses. Here's a guide to help you get started with becoming a social media manager.
16 Steps to becoming a social media manager
Understand social media platforms
Familiarise yourself with various social media platforms (such as Facebook, Instagram, Twitter, LinkedIn, TikTok, Pinterest) to understand their features, audiences, and trends.
Build your own social media presence
Create professional profiles on major social media platforms to showcase your expertise. Share relevant content and engage with your audience to demonstrate your capabilities.
Educate yourself
Learn about social media marketing strategies, trends, and tools by taking online courses, reading blogs, and following industry influencers.
100% hand-screened, high-quality jobs
Entry-level to executive roles
50+ career categories
No ads, junk, or scams
Experts in remote and flexible work since 2007
Currently listing 29,110 jobs from 5,476 companies
Develop content creation skills
Hone your ability to create engaging, visually appealing, and relevant content, including graphics, videos, captions, and articles.
Understand analytics
Familiarise yourself with analytics tools for each platform. Learn how to interpret data and insights to track the success of campaigns and make informed decisions.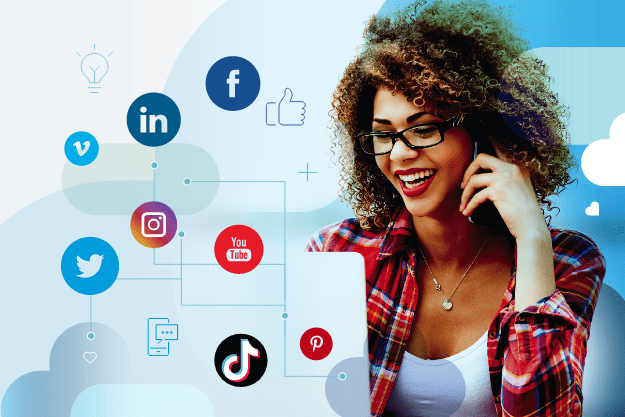 US$47k-US$95k Remote Social Media Marketing Manager Jobs
Browse 227,331 REMOTE SOCIAL MEDIA MARKETING MANAGER jobs (US$47k-US$95k per year) from companies near you with job openings that are hiring now and 1-click apply!
Networking and building relationships
Connect with other social media professionals, attend industry events, and join online communities to stay updated and learn from others.
Freelance or intern
Gain experience by offering your services as a freelancer, intern, or volunteer for small businesses, non-profits, or individuals to build your portfolio.
Round Black Bronze Sunglasses
Non-Prescription lenses
Prescription lenses
US$19.00
Create a portfolio
Compile a portfolio showcasing your work as a social media manager, including social media campaigns, content samples, and results achieved.
Learn about different industries
Acquire knowledge about different industries, as social media strategies vary based on the target audience and industry trends.
ZipRecruiter is a leading online employment marketplace, actively connecting people to their next great opportunity.
Stay updated
Social media is constantly evolving, so keep up with changes in algorithms, features, and trends in order to be a professional social media manager.
Develop client management skills
Learn how to effectively communicate with clients, understand their goals, and tailor your strategies to their specific needs.
Market yourself
Create a professional website or online profile showcasing your services, portfolio, and client testimonials to market yourself as a reliable social media manager.
Pitch your services
Reach out to potential clients and offer your social media management services. Tailor your pitches to their needs and goals.
Build rewarding relationships in the world's Work Marketplace. Your home for the work you want.
Set your rates
Determine your pricing based on factors like your experience, services offered, and the scope of the project.
Execute successful campaigns
When you land clients, create and execute social media campaigns, monitor their performance, and make necessary adjustments to achieve desired outcomes.
The most effective online
treatment for anxiety & depression
Get clinically-proven therapy and personalized psychiatry—all with 1:1 help from expert providers every step of the way.
Appointments available in as little as 24 hours.
Constantly improve
Continuously seek feedback, learn from your experiences, and adapt your strategies to deliver better results.
Conclusion
Remember that becoming a successful social media manager takes time, dedication, and ongoing learning. Gaining practical experience and building a strong portfolio are key factors in establishing yourself as a capable social media professional.
_________________________________
When you buy something through our retail links, we may earn commission and the retailer may receive certain auditable data for accounting purposes.
You may also like:
Product Details
| | |
| --- | --- |
| Type: | Suit Set |
| Material: | 97% Polyester, 3% Elastane |
| Sleeve Style: | Long Sleeve |
| Occasion: | Daily,Work |
| Package Include: | 1*Skirt Set (With Jacket) |
Was US$31.63 -25% Now US$23.72