If you're looking for a new way to cook your taro leaves or dasheen bush, here is a very tasty recipe that includes your favourite breadfruit for you to try. This Taro Leaves and Breadfruit Casserole recipe is a whole new healthy way to have these foods.
You may be accustomed to having your taro leaves as callaloo with steamed breadfruit or combined as an oil down with salted meat. These recipes allow the poisonous plant to be cooked thoroughly to reduce a large amount of the harmful calcium oxalate which causes severe itching.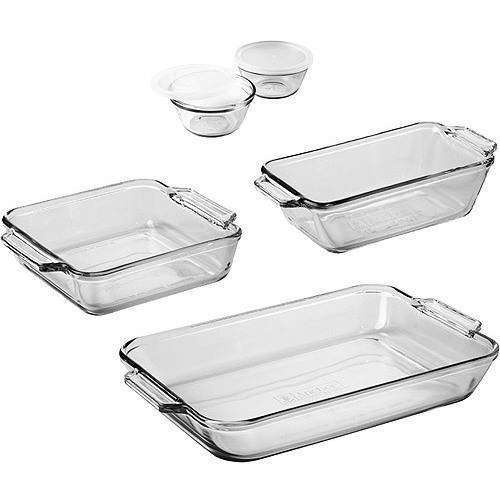 Set includes 5-qt rectangular baking pan, 8″ cake pan, 1.5-qt loaf pan, and two 6-oz custard cups with lids
Tempered for maximum durability
Anchor glass is a healthier choice over metal bakeware; glass does not warp, stain, retain smells or leach chemicals into food
Microwave, pre-heated oven, refrigerator, freezer, and dishwasher safe
Anchor glass bakeware comes with an industry-leading 5-year warranty
US$15.97
Since this Taro Leaves and Breadfruit Casserole does not involve extensive boiling or deep frying of the leaves, you can let them soak in warm water for 30 minutes to overnight before cooking. This is a healthy side dish for your scrumptious Sunday lunch menu.
Health benefits of taro leaves
Consuming a lot of taro leaves or dasheen bush is very beneficial to your health. The green leafy vegetable is high in vitamin C, calcium, folate, fibre and has disease fighting antioxidants.
These nutrients build your immune system tremendously. You fight colds and flus, anaemia caused by folic acid deficiency, develop strong bones and teeth, help your digestive system to function properly, and prevent constipation and certain cancers.
Downsides to some favourite taro leaves and breadfruit dishes
Popular ways that people eat taro leaves or dasheen bush and breadfruit have some downsides to them. So, it is always good to find healthier ways to prepare these foods.
A tasty callaloo usually has a lot of salt to make the bitter bush flavourful. The succulent saheena delicacy is drenched in a lot of oil. Breadfruit is commonly fried in plenty oil and then laced with salt to eat as a snack. Just the name of oil down with salted meat speaks for itself and tells you that it is not good for your heart.
Key Features
• Center Oval Burner
• Dishwasher-Safe Cast-Iron Grates
• SpeedHeat™ Burner
• Keep Warm setting
• Large Oven Window

Sale: US$799.00 MSRP: US$1,025.00 Save US$226.00 (22%)
Taro Leaves and Breadfruit Casserole Recipe
Get the best out of your taro leaves or dasheen bush and breadfruit with this healthy casserole recipe. The sweet flavour of breadfruit combines with the seasoned bitter taro leaves or dasheen bush and is complemented with cheesy goodness.
Plus, you use very little oil and salt to create this tasty dish. Get your bundle of taro leaves or dasheen bush and a nice big breadfruit now to start making this recipe that is packed with numerous health benefits.
Recipe makes 2 casserole dishes
Ingredients
1 bundle taro leaves or dasheen bush
1 large breadfruit
1 large tomato
1 large carrot
1 large onion
3 cloves garlic
3 tablespoons green seasoning (combine chadon beni, thyme, celery, chive, etc)
1 pound cheddar cheese
¼ cup evaporated milk
2 tablespoons oil
½ teaspoon salt
4 cups water
Directions
Prepare taro leaves or dasheen bush
Cut the stems off the taro leaves or dasheen bush ripping the thread line down the back.
Soak the leaves in hot water for 30 minutes or more. Some people also cut off the tip of the leaves to reduce the itchy calcium oxalate.
Chop the leaves finely and set aside.
Dice the tomato, carrot, onion, garlic, and leaves of green seasonings.
Heat the oil on medium fire.
Add diced tomato, carrot, onion, garlic, and green seasonings.
Stir and let cook for 3 minutes.
Add chopped taro leaves or dasheen bush.
Pour 2 cups water.
Stir and let cook for 15 minutes. If you did not soak the leaves, then add more water and cook for 45 minutes to reduce the calcium oxalate.
Prepare breadfruit
While taro leaves are cooking:
Peel and chop breadfruit into 3-inch blocks.
Grate the cheese and set aside the majority for baking.
Check taro leaves and make sure they are cooked.
Add half cup of cheese to pot and stir.
Put in chopped breadfruit and mix.
Sprinkle salt and stir the mixture.
Pour evaporated milk and 1 cup water into pot and stir.
Add the last cup of water, cover the pot and lower the fire.
Cook until the breadfruit is soft and keep stirring to prevent the mixture from sticking to pot.
Taste the mixture and add salt if needed.
Remove from fire when the breadfruit is cooked and mixture is thick.
Fill 2 casserole dishes with the mixture.
Sprinkle the grated cheese all over the dishes.
Bake in oven at 350 degrees Fahrenheit until the cheese is golden brown.
Remove from oven and let cool before serving.
Share your recipes
If you have your very own recipes posted on your website or social media pages and you would like to share them with our readers, send a message to contact@sweettntmagazine.com. Include all your links in the email to be published here for our readers to connect with you.
________________________________
When you buy something through our retail links, we may earn commission and the retailer may receive certain auditable data for accounting purposes.
You may also like: