By Nadia Ali. Let's go fly a kite, up to the highest height,
Let's go fly a kite and send it soaring,
Up through the atmosphere, up where the air is clear,
Oh let's go fly a kite.
Those are the lyrics to a song from the famous "Mary Poppins" film. It's one that relates to the happiness of flying a kite watching it soar into the sky. Fortunately, it is something that is encouraged every year in the 90.5 Annual National Easter Kite Flying Contest held by at the Queen's Park Savannah.
It is definitely a great day out for the whole family with freebies, food and freedom to watch entertainers and not forgetting, to fly a kite!
There are numerous categories to take part in each with a prize. The best category in my opinion is definitely the "Mad Bull" entries. These are the larger than large kites that arrive on the back of a truck waiting to be assembled and flown by a team – like five or more people to get this monster kite in the air.
In 2014, at the far corner of the entrants area a six-man team hooked up their Mad Bull to a pickup to try to get the kite off the ground. It was an amazing task to see as the kite slowly lifted upright and scarped across the dusty ground of the Savannah leaving the team in a dust trail. But alas, it didn't get off the ground for long before literally crashing down on its corners.
Children with small kites were scattered on the Savannah accompanied by parents. The crowds hung around the main area in front of the entertainers' stage where there were sponsors giving out free stuff.
Of course, I went with my kite in hand ready to see it soar "up through the atmosphere, up where the air is clear". It started off well whipping its way up and up but as soon as I began to release the kite string at a pace it began to dip and dive, down, down down plummeting to the Savannah ground far away.
So, I collected it and sat to simply admire those kites that created a rainbow of colour in the sky and the joy on the faces of the persons flying them with pride.
Oh let's go fly a kite!
April 2015 – Issue 15 www.sweettntmagazine.com
You may also like:
Fashion sizes 10 to 40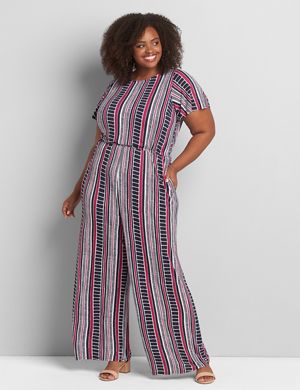 Trust us, a knit jumpsuit is just about as comfy as any of your lounge or athleisure faves. The best part? No one has to know! This jumpsuit flatters from the crossover neckline to the wide-leg silhouette with leg-lengthening vertical stripes. A pair of heels or wedges is the perfect finishing touch.
Crossover V-neckline with tie detail at back neck. Short flutter sleeves. Covered elastic at waist. Pockets. Comfy knit fabric. No closure, pull-on styling.
Item Number #366814
Inseam Length: 27″
Imported Plus Size Dress
Lane Bryant
Machine Wash
95% Rayon/5% Spandex
We make it easy to shop from Trinidad And Tobago with:
All prices in U.S. dollars
Duties and taxes calculated at checkout
Low international shipping rates
Guaranteed landed costs (no additional charges at delivery)
More information about shipping internationally is available on our website.
Plus Size Ruffled-Sleeve Wrap Top
Orig. USD 88.00
Now USD 26.36 (70% off)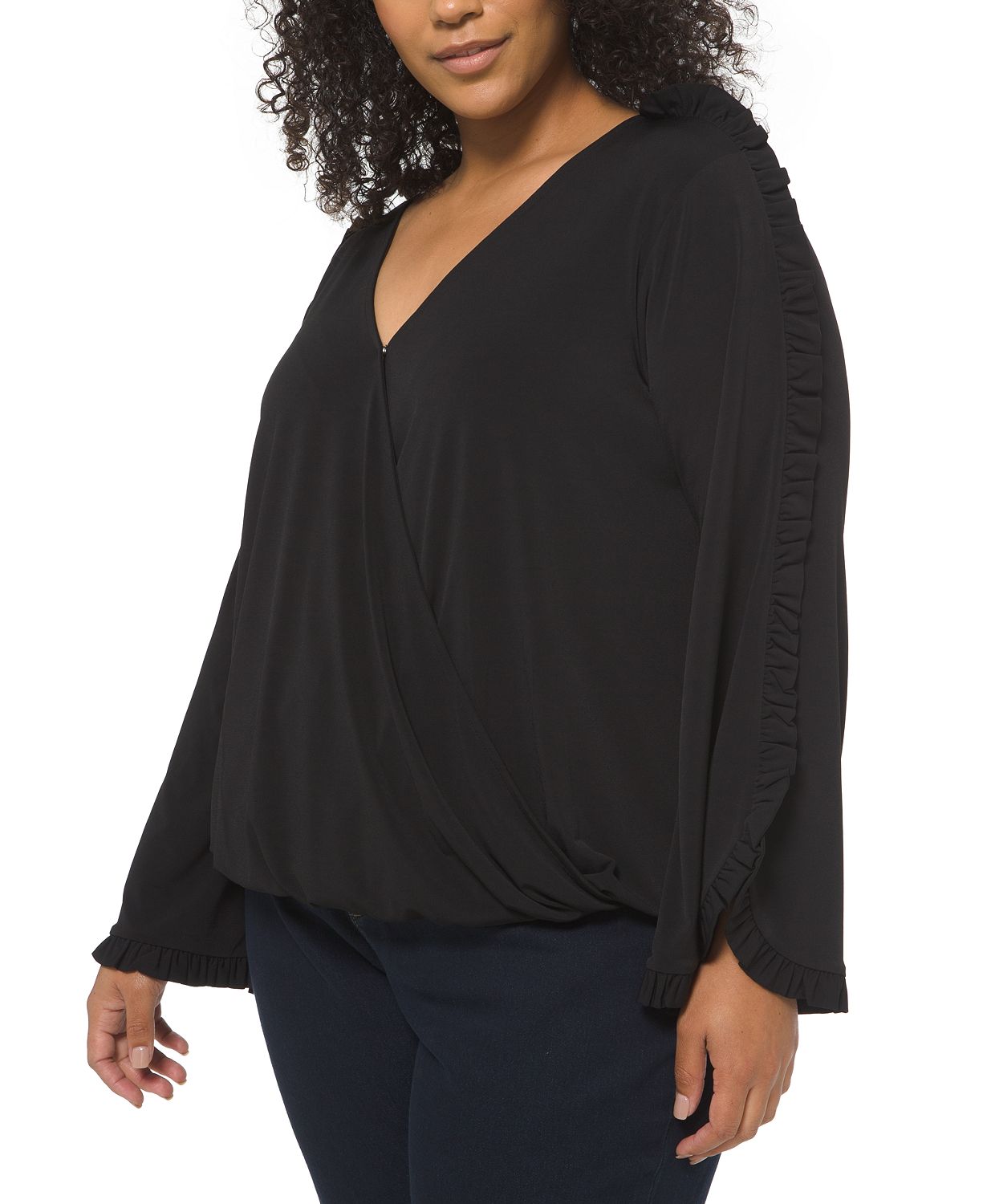 Michael Michael Kors provides the fashion detail you've been looking for with this ruffled bell-sleeve top, featuring an elastic-trimmed hem for a comfortable fit.
Elastic-trimmed hem
Imported
Ruffled bell sleeves
V-neck
Materials & Care
Machine washable
Polyester/elastane
Plus Size Paisley Gathered Peasant Top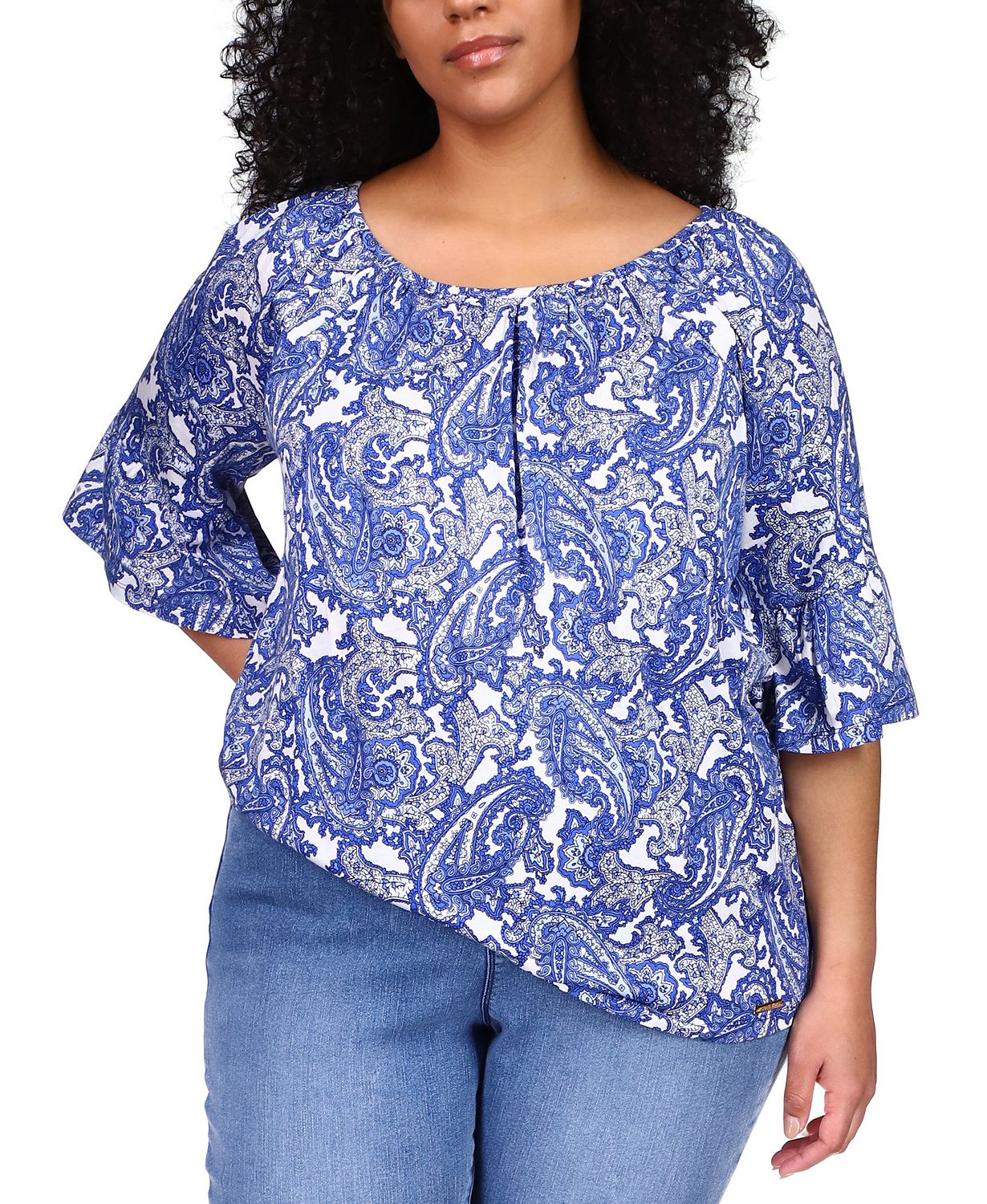 Go for a soft, feminine look with this plus size peasant top from Michael Michael Kors featuring a pretty paisley print.
3/4-sleeves with ruffles
Imported
Scoop neckline with gathering
Size & Fit
Approx. 28-1/2″ long
Model is wearing size 1X
Materials & Care
Cotton/modal
Machine washable