As you practise sustainability across different aspects of your life, don't forget to consider your office attire. Given the considerable amount of work wear you'll likely use over the years, practising sustainable fashion at work will be great for the planet.
Do note that the fashion world is responsible for more than 10% of greenhouse gas (GHG) emissions. By making conscious fashion choices, you can lower your carbon footprint while contributing to a more sustainable future.
In this article, we explore the concept of eco-conscious attire. Plus, we provide a few tips to help you embrace sustainable fashion at work.
What is sustainable fashion?
The term sustainable fashion has been described in various ways, but at its core, it refers to clothes that leave a minimal impact on the environment.
Sustainable fashion takes into account the entire life cycle of a garment, from how it's produced to how it can be reused to promote a circular economy.
Its main goal is waste reduction through strategies such as using long-lasting materials, minimising water use during production, eliminating toxic chemicals, and more.
Beyond environmental considerations, the sustainable fashion industry is also committed to ethical practices. This includes ensuring the safety and fair compensation of workers, as well as giving back to the communities where clothes are made.
Power-dressing with eco-conscious choices
Wearing sustainable clothes to work allows you to ease the fashion industry's strain on the planet. What's more, making this thoughtful choice sends a statement to brands, encouraging them to adopt better practices.
Here's how to build a sustainable wardrobe, so you can power-dress while lowering your carbon footprint:
Curate a capsule wardrobe
Put together a collection of staple pieces that pair well with one another, allowing you to create countless looks. By maintaining a minimal selection of clothes, you can simplify the outfit creation process, all while reducing the need to regularly buy new items.
For no-effort outfit coordination, invest in neutral-coloured clothes, such as black slacks, white button-down shirts, and tan skirts. Opt for versatile pieces that can be dressed up or down to suit the occasion.
Shop second-hand
The world's landfills are already filled with 92 million tonnes of textile waste, which has the potential to contaminate the soil and waterways. 
By thrifting, you can give life to clothes that would've otherwise ended up in landfills, thereby preventing pollution.
Additionally, this eco-conscious choice helps you extend the life cycle of garments, paving the way to a circular economy.
Product Details
| | |
| --- | --- |
| Type: | Suit Set |
| Material: | 97% Polyester, 3% Elastane |
| Sleeve Style: | Long Sleeve |
| Occasion: | Daily,Work |
| Package Include: | 1*Skirt Set (With Jacket) |
Was US$31.63 -25% Now US$23.72
Invest in long-lasting garments
One way to reduce your textile waste is by investing in clothes you can wear for years. Compared to low-cost choices, quality items generally last longer.
While the upfront cost may be steep, these items are more durable, saving you more money in the long run.
When shopping for green fashion choices for the office, opt for timeless pieces so you'll always look in style. And when following fashion trends, give your picks a green twist by opting for sustainable materials like bamboo.
Round Black Bronze Sunglasses
Non-Prescription lenses
Prescription lenses
US$19.00
Think before you buy
As you shift to a sustainable wardrobe, it's important to note that fashion will never be 100% eco-friendly. Clothes made from sustainable materials still generate GHG emissions, although fewer than their traditional counterparts.
With that in mind, avoid buying pieces you don't need, as doing so will only lead to more pollution.
Be mindful when shopping for new clothing. Ask yourself whether you'll wear an item multiple times or until it's fully worn out.
If you already have something similar in your wardrobe, avoid adding it to your cart.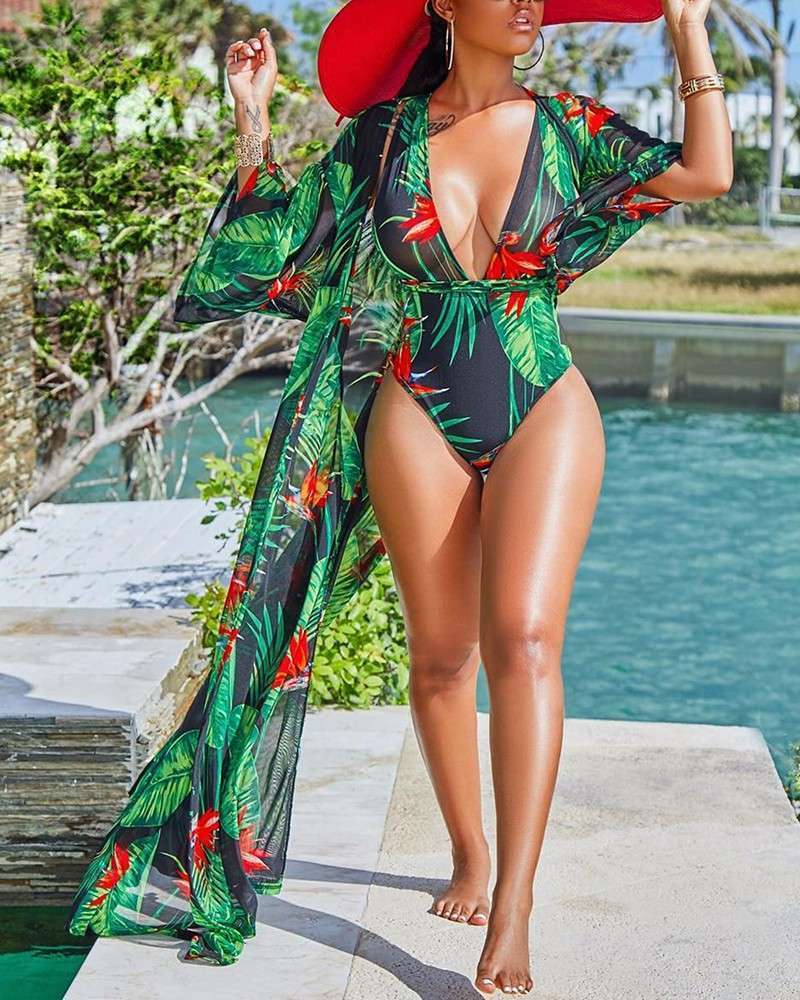 Product Details
| | |
| --- | --- |
| Style: | Chic,Sexy |
| Type: | Cover Ups,Wireless Bra |
| Material: | Polyester |
| Neckline: | Halter |
| Sleeve Style: | Long Sleeve,Sleeveless |
| Length: | Regular |
| Pattern Type: | Tropical |
| Decoration: | Cutout |
| Fit Type: | Skinny |
| Occasion: | Beach,Vacation |
US$22.95 -20% US$18.36
Prioritise sustainable fabrics
If you have to buy new clothes (for example, you have a work function and none of your clothes suit the occasion), choose pieces made from sustainable fabrics.
Materials such as organic cotton, linen, lyocell, and econyl use fewer resources during the production process.
Extend this eco-conscious choice to your accessories. Favour items made of sustainable materials, such as vegan bags and faux leather belts.
Avoid buying from fast fashion brands
Steer clear of fast fashion, as the industry is notorious for its unethical and unsustainable practices. Instead, consider supporting slow fashion brands that align with your green goals.
These brands are committed to practising sustainability across their supply chain, from where they source fabrics to how they ship products to consumers.
Repair or repurpose clothes when you can
Your work wear experiences more wear and tear than most items in your closet, given their regular use.
If your pants need a simple re-hem or your polo needs new buttons, consider opting for repairs rather than disposing of them immediately.
Throwing away clothes when they can still be fixed is not only wasteful, but also contributes to the ongoing landfill crisis.
If you don't want to repair your clothes, why not explore the art of repurposed fashion? For example, you can easily transform a pair of pants into stylish shorts, or a dress into a top.
Stay true to your style
Embracing sustainable work wear doesn't mean compromising your sense of style. You can continue expressing yourself through fashion, all while staying dedicated to making eco-conscious choices.
If you love wearing printed garments to work, go ahead and buy boldly designed items—just don't overdo it.
Ultimately, the essence of sustainable style is reducing waste, so just be mindful of what you buy. Make sure to invest only in items you truly love and will wear until you retire.
Dress for success with eco-conscious fashion
The fashion industry's impact on the environment is so immense, that it's crucial to consider what you wear.
By choosing sustainable office wear, you can show your commitment to your green goals, while staying true to your impeccable sense of style. And who knows?
Maybe you'll become an eco-conscious trendsetter at work, and inspire your colleagues—and even bosses—to follow suit.
_________________________________
When you buy something through our retail links, we may earn commission and the retailer may receive certain auditable data for accounting purposes.
You may also like: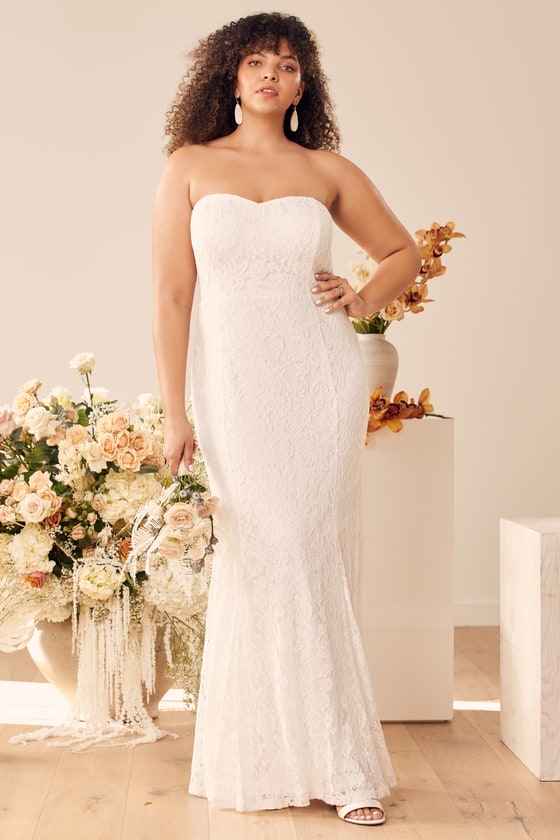 Sizes: XXS, XS, S, M, L, XL, 1X, 2X, 3X
Lulus Exclusive! Love is in the air when you're wearing the Lulus Always Be There White Lace Strapless Mermaid Maxi Dress! Intricate floral lace shapes this stunning maxi dress with a strapless sweetheart neckline (with hidden no-slip strips) and princess-seamed bodice. A fitted waist tops a figure-skimming maxi skirt that falls to a flattering mermaid hem. Hidden back zipper/clasp.
Fit: This garment fits true to size.
Length: Floor length. Size small measures 52″ from top to bottom.
Bust: Works best for A to C cup sizes.
Waist: Fitted – very fitted at natural waist.
Hip: Fitted – consider sizing up for fuller hips.
Undergarments: May be worn with a strapless bra, adhesive bra, petals, or no bra.
Fabric: Fabric has no stretch.