Chopin celebrates its 30th anniversary with the release of Chopin Vintage Vault 30-Year-Old Original Batch Vodka. Chopin is the world's first super-premium vodka from the last Polish vodka-making family in Poland.
Known for catalysing the luxury vodka phenomenon in 1993, Chopin's release gives spirit aficionados a taste of the world's first luxury vodka ever made through a limited run of 1,000 bottles with a $3,000 price tag.
A superb-quality Polish potato vodka, distilled four times – it takes approximately five kilos of potatoes to make each bottle. Chopin is a long-time favourite in style bars and has an enviable reputation as one of the finest vodkas available.
This rare release is a celebration of Polish vodka-making tradition and Chopin's commitment to their craft as the first and only luxury vodka brand to reach 30 successful years in business.
"In 1993, no one believed that there could be such a thing as 'luxury vodka'. It has been our mission since we launched to change the way vodka is perceived. Today, we are still working to elevate the category and push the boundaries of vodka through extensive experimentation with distillation, ingredients, and aging," says Tad Dorda, founder and CEO of Chopin Vodka.
"The release of our Vintage Vault 30-Year-Old Original Batch Vodka is a celebration of our incredible 30-year milestone, which brings me great pride, and inception of the luxury vodka category as a whole."
Chopin Vintage Vault box includes special booklet
Chopin Vintage Vault contains the oldest premium vodka in the world—a vintage potato vodka from the brand's first release in 1993 that was locked in the vault at the brand's distillery in Krzesk, Poland for the last three decades.
The rare liquid is enclosed in a custom, hand-cut eco-crystal decanter made with the highest quality crystal from the Czech Republic and is housed in a box reminiscent of a wooden chest made with Alder wood and sealed with a metal Chopin logo.
Designed to initiate conversations about tasting notes and history, each Vintage Vault box includes a special booklet that includes the story about the family-owned distillery and farm in Poland.
Additionally, tucked inside the chest is a pocket that contains two custom cocktail picks adorned with natural pearls, a nod to the pearl's association as a 30th-anniversary gift that symbolises purity, honesty, and wisdom.
Poland- This is the first super premium, Chopin Extra Rare Young Potato Vodka. Estate crafted from farm to bottle in Poland. Rested for two years for ultimate smoothness and naturally gluten-free.
This idea is also embodied by Chopin's own values, championed by founder Tad Dorda who for 30 years has pioneered changing the perception of vodka from a tasteless, odourless spirit to a drink that should be sipped and savoured.
Chopin Vintage Vault has a bright, citrusy nose and opens with sweet notes that warm the palate. It develops flavours of fresh green apple, vanilla, and subtle grapefruit, and finishes with hints of white pepper and coriander.
A vodka this rare is best enjoyed neat, on the rocks, or in a dry martini. To purchase one of the vault bottles, Chopin will add to its rich history with customer stories—they request that customers share the story of their most memorable Chopin moment or how they plan to enjoy this special bottle via a submission form on the website. The Chopin team will review responses and send back a link with a password to purchase the product.
Made with premium stainless steel grade metal.
6 piece Boston Cocktail Shaker Set includes:
2 Piece Boston Shaker 25oz & 20oz /750ml & 600ml
1 Strainer
1 Jigger .5oz/1 oz
1 Bar Spoon
1 Muddler
1 Ice Tongs
Chopin has also teamed up with Verōnika, the European restaurant inside Fotografiska New York, for NYC's most expensive, coveted martini experience designed to intentionally challenge the status quo of all vodkas being tasteless, odourless, and lacking point-of-view.
Available only at Bar Verōnika on their secret Black Book menu created by Beverage Director Tim Stuyts, the $1,500 Chopin x Verōnika Vintage Vault Martini features Chopin's Vintage Vault potato vodka served dry, dusted, or wet, paired with a pickled dwarf peach, which has a subtle truffle essence, and is skewered on one of Chopin's custom 30th-anniversary pearl cocktail picks, a bespoke keepsake to take home.
It's served alongside a french fry and caviar tray with Rare Two-Tone Osetra Caviar known for its gold hue. This offering allows guests to enjoy vodka's holy grail—the potato—in and out of the glass, and is available starting October 1st, 2023.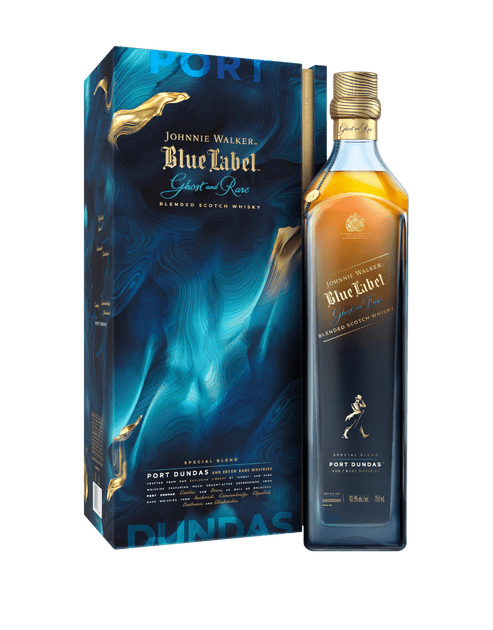 The fifth release in the award-winning Johnnie Walker Blue Label Ghost and Rare series of limited editions, Johnnie Walker Blue Label Ghost and Rare Port Dundas, explores the character of exceptional and rare whiskies from one of the world's most famous Grain Whisky distilleries, the Glasgow "ghost" distillery of Port Dundas.
This renowned distillery, nestled on the banks of the Forth and Clyde Canal, shipped its distinct Scotch from Glasgow to ports across the world for nearly 200 years. Built in 1811, at the highest point in the city's rich commercial history, Port Dundas became a whisky blending powerhouse. Eventually growing to become a distillery known for its distinctive sweet and delicate Grain character before it closed in 2010.
Starting at US$426.00
About Chopin
Chopin is the world's first super-premium vodka from the last Polish vodka-making family in Poland. The brand, which is still family-run, debuted in 1993 and catalysed the luxury vodka phenomenon.
Chopin founder and CEO, Tad Dorda, takes a unique farm-to-bottle approach working with farmers within a 15-mile radius of their distillery in Poland to grow potatoes, wheat, and rye.
Chopin's mission is the same as when the brand launched almost 30 years ago: to shift the conversation around vodka from being a tasteless, colourless, odourless mixer synonymous with nightlife to an original Polish spirit that's meant to be savoured, appreciated, collected, and discussed.
The brand's vodka lineup currently includes Chopin Potato, Chopin Wheat, Chopin Rye, Chopin Family Reserve, Vera Wang x Chopin, Chopin Rye Organic, and Chopin Bartender's Choice.
Ivy Schneider
Chopin
ivy@isetta.co
– Globe Newswire, New York, NY
___________________________
When you buy something through our retail links, we may earn commission and the retailer may receive certain auditable data for accounting purposes.
You may also like:
Exotic, rich and lively.
Nectar Impérial is the boldest and most unexpected Moët & Chandon champagne. It reflects the diversity and complementarities of the three champagne grapes and the richness of the region's best vineyards to reveal the magic of the world's most loved champagne. Creamy and vibrant, Nectar Impérial distinguishes itself by the richness of tropical fruits (pineapple and mango), rounded out by the silkiness of fresh plum and apricot, and finishing with bracing grapefruit notes.
Bottle Size: 750ml
Please Drink Responsibly.