By Taye Antoine. 'The self-lacing shoes electronically adjust to the shape of your feet to get the right fit, but that is not where it ends. They connect to an app on your phone…'
Have you ever watched the famous movie Back to the Future, saw that Marty Mcfly wore a pair of self-lacing shoes that he got in the year 2015 and wished that you had one?
2015 replica of self-lacing shoes
Well in 2015, Nike made shoes called Nike Mags which was a working replica of the self-lacing shoes from Back to the Future. There was only a limited amount of these shoes that were made. They cost a remarkably high price around $15,000 USD for one pair which made it basically impossible for the average person to get.
2020 self-lacing shoes with different design
In 2020, Nike made another self-lacing shoes with a different design called the Nike Adapt BB. Currently, the price starts at $350 USD and only goes up from there. The shoes come with amazing futuristic technology built in.
They electronically adjust to the shape of your feet to get the right fit, but that is not where it ends. The shoes connect to an app on your phone for you to control them. If you have an Apple watch, you can also connect it to your shoes.
Self-lacing shoes battery pack
How do the shoes power on and do these stuff? Well, the soles of the shoes store all of their technology. They use a built-in battery pack to power them up. The battery needs to be recharged with a charging mat which is provided with the shoes. What will happen if the battery dies and you can't recharge at the moment? The shoes will remain laced and they will even unlace if you need it too.
Is it worth the price?
You're probably asking is it worth the price? Honestly, I don't know because I personally will never pay that much for shoes that only do just that. Maybe, if it made me jump super high, then sure. What are your thoughts on these shoes?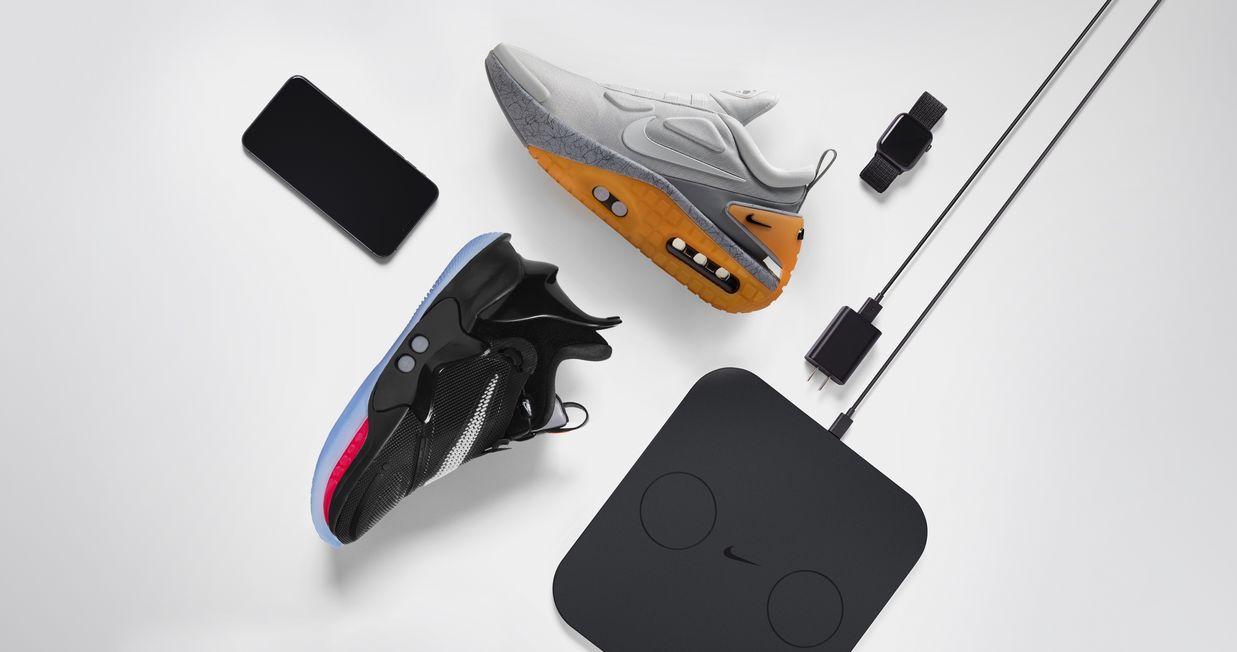 Adapt Auto Max
Pure Platinum
Air Max has evolved endlessly since its introduction in 1987, but some leaps have been bigger than others. Backed by FitAdapt technology, the Adapt Auto Max extends the storied concept into 2020 with power laces that allow you to set and save the perfect fit and look, including tailored lighting. Choose from 13 iconic colors, with the option of making them pulse for up to an hour. Take the experience to a new level by adjusting the shoe and its lighting using only your voice, with the help of Siri Shortcuts and Google Assistant.
The silhouette's innovative approach extends into its performance features. For the first time ever, users will have two modes to engage—one tuned for activity, and the other for relaxing. Lightweight, breathable mesh upper contours your foot for a personalized feel, while a TPU plate wraps your foot for added stability. Underfoot, a brand-new Max Air unit provides more Air for an ultrasoft ride. Step into this truly unprecedented design and extend the imaginative legacy of Air Max.
ICONIC COMFORT TAKES A FUTURISTIC LEAP FORWARD.
Bring the past into the future with the Nike Air Max 2090, a bold look inspired by the DNA of the iconic Air Max 90. Brand-new Nike Air cushioning underfoot adds unparalleled comfort while transparent mesh and vibrantly colored textile on select colorways blend with timeless OG features for an edgy, modernized look.
Benefits
More Air underfoot creates a softer ride while ribbed TPU frames your air for a bold look.
The internal booty construction and padded heel feels soft and comfortable while letting you mix up how you wear your sneakers.
The new speed-lacing system lets you quickly personalize your fit and get going.
The faux-Waffle outsole has large flex grooves, mixing heritage style with a modern design.
Product Details
Pull tab on heel
"AIR" logo is embossed into heel for a lasting look
Springy foam midsole feels soft and comfortable
Rubber sole adds traction and durability
Shown: Laser Blue/Black/Vast Grey/White
Style: CT1091-400
PAYING HOMAGE TO AIR.
Celebrating 2006's first shoe cushioned entirely by air, the Nike Air VaporMax 360 continues the Air revolution with an updated look and feel. Combining the upper of the Air Max 360 with lighter, more flexible technology underfoot, it brings one of Nike's most progressive innovations to the present.
Benefits
Ultralight VaporMax cushioning feels comfortable, bouncy and flexible.
The upper celebrates everything Air Max, combining the OG Air Max 360 upper with heritage TPU accents, classic wave patterns of the Air Max 97 and the celebrated stripes of the Air Max 98.
"2020" is printed on the lace eyelets, mimicking the "2006" of the Air Max 360 and celebrating Nike heritage.
Speed lace loops and welded synthetic skins on the upper are inspired by the Air Max 360, offering easy entry and a personalized fit.
The padded collar feels soft and comfortable, while half-bootie tongue stretches to your foot for support.
Product Details
Rubber pods add traction and durability
Heel pull tab
Not intended for use as Personal Protective Equipment (PPE)
Shown: Laser Blue/White/Light Smoke Grey/Black
Style: CQ4535-400
Black shoes for back to school