Everyone knows the right tool makes any job easier and preparing meals is no different. Getting all your kitchen appliances at one store may seem difficult if not impossible. This may become even harder when you are working within a budget. Here is a list of kitchen sets that are both functional and affordable.
If you are in the market for an affordable kitchen upgrade these three sets from Frigidaire may be the right choice for you. The first includes a stainless steel 30″ electric range, 30″ over range microwave and an automatic dishwasher. The second option has a 18 Cu. Ft stainless steel refrigerator, 30″ stainless steel gas range, 30″ over the range hood and an automatic dishwasher. The third kitchen package from Frigidaire includes Frigidaire's Stainless Steel FFSS2615TS 36″ Side-by-Side Refrigerator, FFEF3056TS 30″ Electric Range, FFID2426TS 24″ Fully Integrated Dishwasher, FFMV1645TS 30″ Microwave.

Frigidaire 4-Piece Stainless Steel Kitchen Package
Simple food management
Use your voice to add items to your shopping lists. See inside from anywhere with 3 built-in cameras. Automatically assign expiration notifications and nutritional information. Plan a meal based on what foods are available inside your refrigerator.
Sync with your family
Sync your family's calendars for all activities. Receive personalized information through voice recognition. Remotely share photos, notes and memos.
Connect to your home
Control smart devices and appliances; set lights, adjust the thermostat or monitor your baby's room. Ring Video Doorbell lets you see, hear and speak to anyone at the front door from your Family Hub.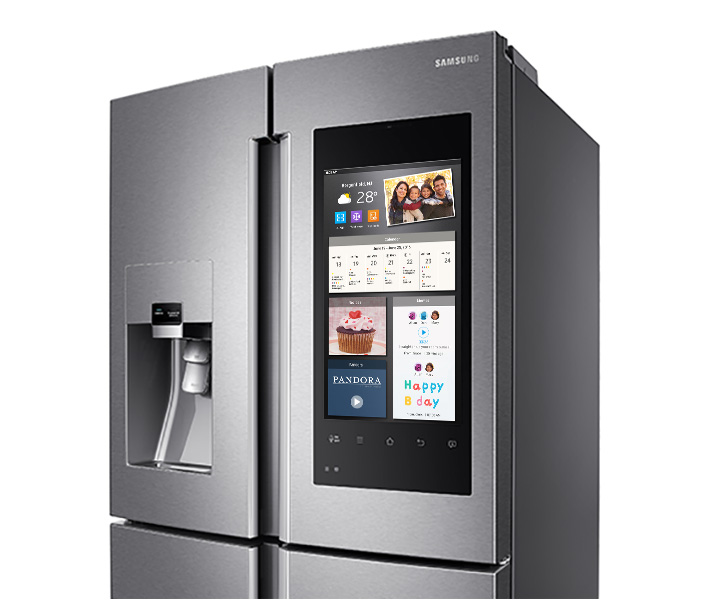 Music or TV while you cook
Stream music to your Family Hub with Pandora, IHeartRadio, Spotify Connect or TuneIn (radio). Mirror your Samsung TV or Samsung Phone directly on your Family Hub screen.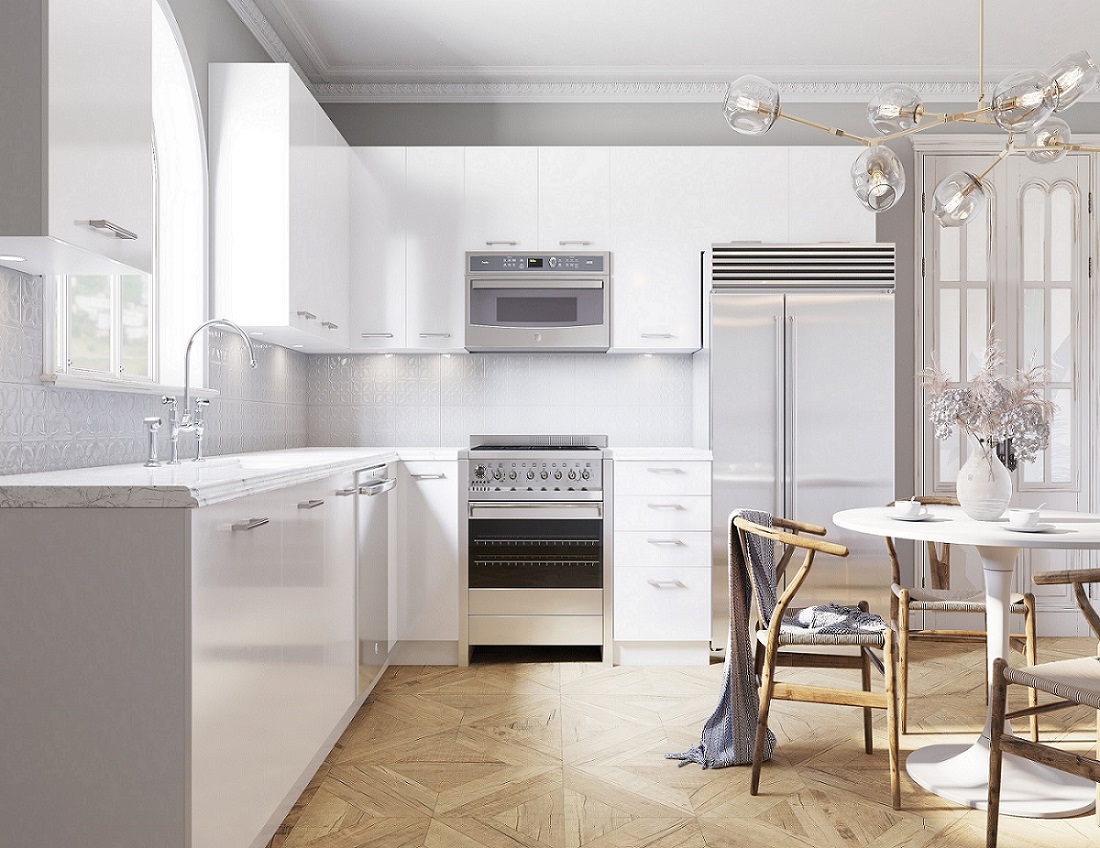 Soft close doors & drawers
Kitchen & Bathroom: standard sizes and configurations fit any space. Drawer base units are assembled and ready for installation
Threespine Technology: Cabinets can be assembled 8-10 times quicker than traditional assembly and ship within 3 days
Randolph Oak Kitchen
Solid Wood Door Construction With Durable Finish
All-Wood Drawer Box System
Solid Plywood Cabinet Box Construction
Solid Oak Wood Cabinet Face-Frame
Cam Lock System
Kitchen photo shows Amber Oak Finish, European Style Concealed Hinges and Cabinets are ready to assemble. Wall and Base Units have Raised Panel Doors.

This 10 x 10 kitchen includes the following cabinets:
Micro-Hood Cabinet
W3612 (Refrigerator Cabinet)
Corner Base Lazy Susan
Wall Diagonal Corner
Dishwasher Return
Sink Base
Base Filler
Premium Kitchen Cabinet Package – 10'x12'
ALL Wood Construction – NO PARTICLEBOARD
Soft-Close Maple Doors/Adjustable Concealed Hinges
Includes: Lazy Susan, Wall Diagonal, Crown Molding
Under Mount Soft-Close Solid Maple Dove-Tail Drawer
Interior Natural Stain, ¾" Ply Adjustable Shelves
1 Wall 30" wide x 12" height Cabinet (over Micro/hood)
W3612 (Refrigerator Cabinet)
36" Lazy Susan Cabinet with 2 turn tables
24"x30"Corner Wall Diagonal Cabinet
1 Wall 12" wide x42" height Cabinet
36" Sink Base Cabinet
3 Wall 24" wide x 42" height Cabinets
3 Base 24" wide Cabinets with 2 doors and 1 drawer
1 Wall 36"x12"x24"Cabinet (over refrigerator
1 18" wide Drawer Bank Cabinet with 3 drawers
1 Wall 30" wide x42" height Cabinet
2 – 8' Toe Kick skins and 4 – 8' X 1'5/8" Crown Moldings
These cabinets come Ready-To-Assemble (RTA). Handles, Knobs and Pulls are not included.
You may also like:
Baked Breads
Banana bread quick and easy recipe
Granny's homemade coconut sweetbread
Tasty coconut bake recipe for breakfast
My first try at making hops bread
Fried Staples
Banana fritters a breakfast favourite
Corn fritters another great idea for corn
Flourless rolled oats pancakes for diabetics
Oven baked delicacies
Vegetarian patties in under 40 minutes