This is an excellent recipe that you can turn into a family activity, everyone can build their own wraps. Veggie wraps make a convenient ready to eat meal in situations where you have to grab a meal on the go. It can be made and served in different ways. It can be frozen or refrigerated for later use or it can be served piping hot in store bought soft tortillas, pita bread or homemade sada roti, if time permits.
Veggie wraps recipe
Estimated preparation time: 10 minutes
Estimated cook time: 10 minutes
Yield: 12
Ingredients
1 can black beans
1 can red beans
1 can green peas and carrots
1 can whole kernel corn
1 scotch bonnet pepper (optional)
2 tablespoons combined green seasonings (chive, celery, parsley, chadon beni, thyme)
½ teaspoon geera powder
½ teaspoon salt
2 tablespoons oil
4 cups water
12 (10 inch) flour tortillas
1 pound of cheddar cheese
1 head lettuce
3 large tomatoes
2 large onions
Directions
Drain water from cans and mix peas in bowl.
Heat oil in a large frying pan on a medium fire.
Add pepper and green seasonings to oil and let sizzle, then stir in peas, geera powder and salt.
Remove from fire, let cool and transfer to large bowl.
Grate cheese, dice tomatoes and onions, then mix in with peas in bowl.
Divide the mixture evenly among the tortillas, add lettuce and roll up.
Wrap individually in plastic wrap, place into a large freezer bag, and freeze.
Reheat as needed in the microwave.
See: Facebook, Instagram, Twitter, Linked In
Try additional ingredients with your wraps
With additional ingredients, everyone could have their favourite wraps. Feel free to substitute ingredients, or add new ones. This recipe is a vegetarian one, however, you can use grilled chicken breasts, beef, pork or fish. In future articles, look out for recipes like, homemade sada roti, pita bread and soft tortillas. With these recipes you would be able to prepare your wraps from start to finish.
April 2017 www.sweettntmagazine.com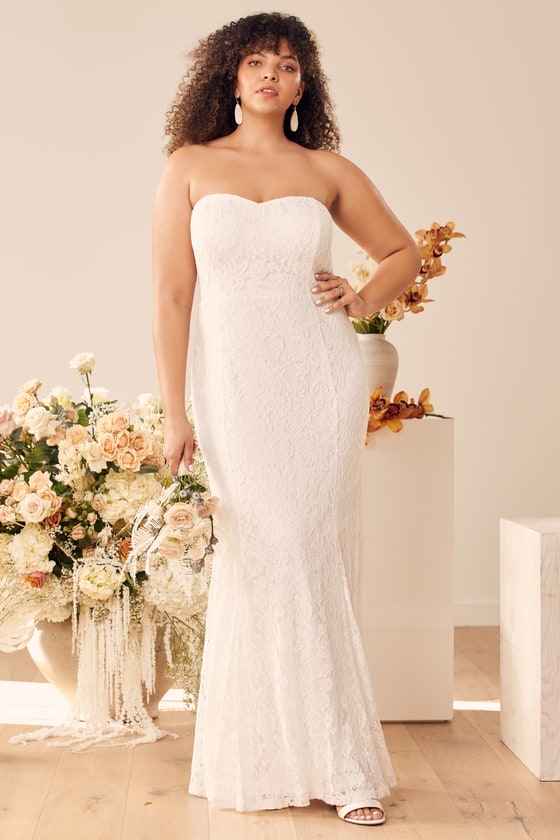 Sizes: XXS, XS, S, M, L, XL, 1X, 2X, 3X
Lulus Exclusive! Love is in the air when you're wearing the Lulus Always Be There White Lace Strapless Mermaid Maxi Dress! Intricate floral lace shapes this stunning maxi dress with a strapless sweetheart neckline (with hidden no-slip strips) and princess-seamed bodice. A fitted waist tops a figure-skimming maxi skirt that falls to a flattering mermaid hem. Hidden back zipper/clasp.
Fit: This garment fits true to size.
Length: Floor length. Size small measures 52″ from top to bottom.
Bust: Works best for A to C cup sizes.
Waist: Fitted – very fitted at natural waist.
Hip: Fitted – consider sizing up for fuller hips.
Undergarments: May be worn with a strapless bra, adhesive bra, petals, or no bra.
Fabric: Fabric has no stretch.
You may also like:
CELEBRATING THE SWEETNESS OF COMING TOGETHER
HONEY CELEBRATES THE KITCHEN AS THE PLACE TO COME TOGETHER WITH OTHERS TO COLLABORATE, CREATE AND SHARE FOOD AND COMMUNITY.
ABOUT HONEY
SWEETER TOGETHER
Rich, uplifting and comforting – with golden-orange undertones – the 2021 color of the year is a reminder of the sweetness that comes from making together in the kitchen. It's time to celebrate connection as we bring a touch of warmth to countertops everywhere with the irresistible positivity of Honey.
Study Zone Institute, San Juan, Trinidad and Tobago. 668 likes. SEA, CSEC affordable classes. Register now for full time, after school or Saturday lessons. Learn at your own pace. WE CARE FOR ALL…
Sponsored Content: Study Zone Institute is located at #73 Eastern Main Road, Barataria (opposite Eastern Credit Union). It is a Trinidad private school that offers personalised learning to students writing S.E.A., C.S.E.C. and more. The environment at Study Zone Institute is safe, stress-free and comfortable with air-conditioned classrooms. Classes are offered to students ages 10 and over preparing for the Secondary Entrance Assessment (S.E.A.)
Jobs and vacant positions can be posted here for the whole world to see for free. Have a skill, product or service you would like to offer post it here.