"I share material on the subjects I teach… I offer workshops for teachers on the CSEC English SBA and for students on CSEC English Paper 032." Mr Hassan Basarally, secondary school educator, welcomes students and English teachers to join his workshops.
Teachers, you are not alone, you do not need to reinvent the wheel, you can work smart, not hard!
I urge English teachers to join me so you can find out about WhatsApp chats and professional learning communities (PLCs) created for English A and B, Communication Studies and Literatures in English. I have avoided burnout because of these groups and the support they offered.
I have taught in government secondary schools for my entire career, starting at Barataria North Secondary School in 2010 and then Princes Town West Secondary School in 2015. Currently, I teach Forms 5 and 6. At the CSEC level, I teach English A and B, while at the CAPE level, I teach Literatures in English.
I had a class of adult CSEC English A students with the Adult Education Programme of the Ministry of Social Development and Family Services, but this is on pause due to the pandemic. In addition, I do lessons and individual tutoring for English A, English B, Communication Studies and Caribbean Studies.
Workshops for English teachers and students
I am currently running a free CSEC English SBA Student Series. Before every sitting of CSEC, I do a free English Paper 032 workshop, and I do teacher workshops on the CSEC English SBA for any school that reaches out.
I have three Facebook pages where I share material on the subjects I teach. Additionally, there is a teacher resource page called Trinbago English Teachers where teachers can share information regarding our profession and subject.
Disrupting the traditional classroom
My styles and techniques vary with level, subject, and personality of students. However, there are a few common threads.
Humour
Education is a serious thing, but it does not have to be unenjoyable. Humour resonates long after the class and I believe it is an underutilised strategy despite its basis in academia. One of the things I like to do is have students create memes related to texts. This is even extended to art to express important quotes or themes.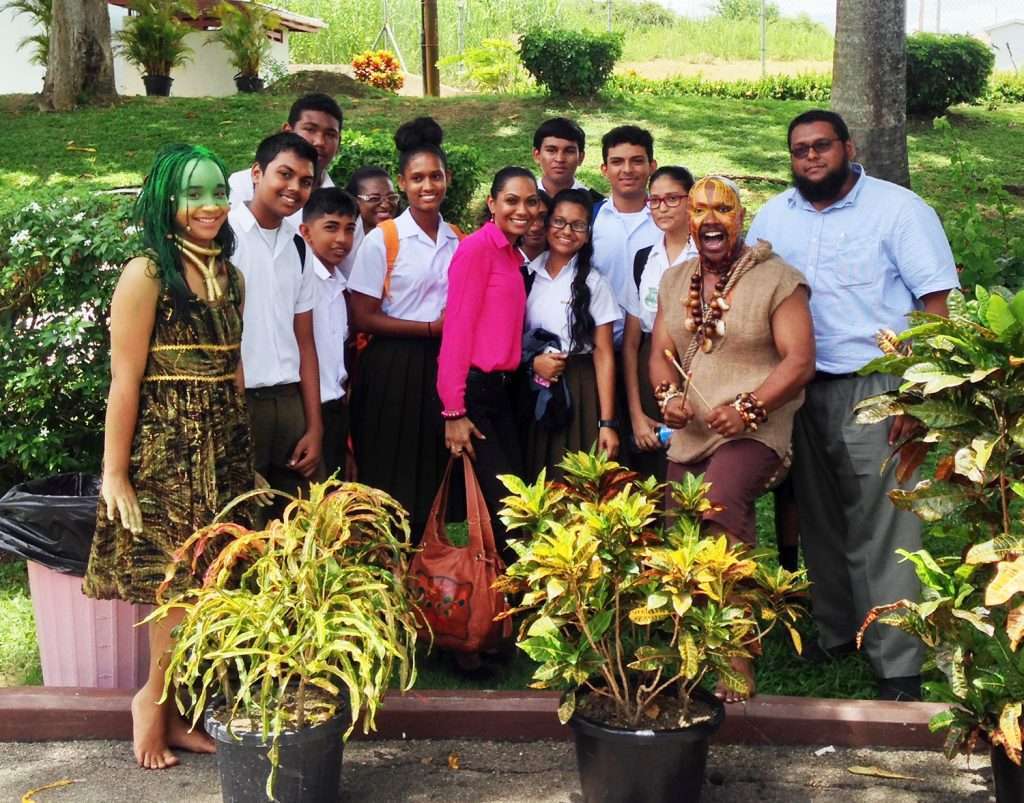 Noise
I disrupt the traditional classroom. I want my students to talk about the lesson. I want them to talk about their experiences related to it. Silently taking notes will not reach our students today.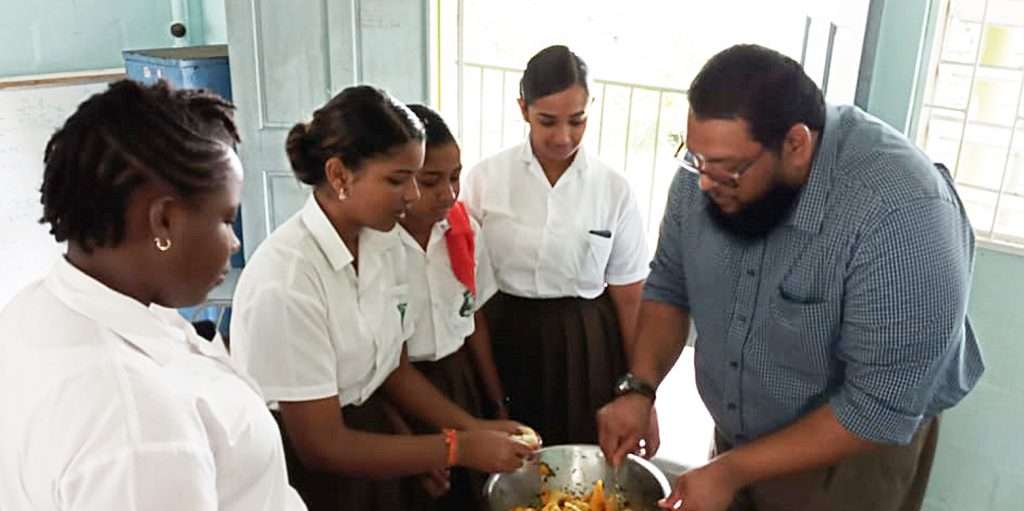 Engaging material
A teacher today must spend much more time in research than before. It is not needed for content but in delivery. Sometimes we choose material because it has much information, but to the student it is inundating. We must consider our class so we can provide user friendly, attractive, visual, organised material. Be willing to discard material if it does not resonate with your class.
Courage
How does courage reach in this? You need courage to call out the problems in your school, despite the consequences. You need courage to hold children accountable, despite the allure of just teaching and leaving. You need courage to hold yourself to a higher standard because to interact with children, that is the unspoken social contract a teacher has.
Quality feedback
Traditionally, we just highlight the errors in students. A shift in mentality is needed to move from punitive to constructive feedback. Highlight the shortfalls but praise the good parts and explain how to improve. A simple thing as using a different colour than red when correcting creates a new outlook to the process for the student.
Students keep in touch at university level
A child did tell me once that if he had to have a stepfather, he wished it would be me. I don't know how to process that still. It is also cute that some students still send me their grades from university each semester to let me know they are not falling behind. Another high point is having students choose to do the undergrad degree I did and say that I motivated them to be English teachers.
Importance of education in my family
I'm the last child and boy of seven siblings. One of the things that stood out to me during childhood was the importance placed on education.
My parents did not finish secondary school yet would check my books to see the scores I got, and the number of questions correct. My sisters were into ECCE so they were more active in ensuring homework and projects were properly done.
Processor – 11th Generation Intel® Core™ i3-1115G4 Processor (3.00 GHz, up to 4.10 GHz with Turbo Boost, 2 Cores, 4 Threads, 6 MB Cache)
Operating System – Windows 11 Home 64
Graphics – Integrated Intel® UHD Graphics
Memory – 8 GB DDR4 3200MHz (4 GB Soldered + 4 GB DIMM)
Storage – 512 GB PCIe SSD
Display – 17.3″ FHD (1920 x 1080) IPS, anti-glare, 300 nits
Camera – 720p HD
Fingerprint Reader – Fingerprint Reader
Keyboard – US – English
WLAN – 802.11AX (2 x 2) & Bluetooth® 5.1
US$$679.99
Great teachers at primary and secondary schools
Also, I benefitted from always having great teachers who wanted the best for me in everything. I witnessed this at Brothers Presbyterian School where the teachers were like extended family in the village. This was also seen at St Stephen's College where my teachers had a major role in career guidance.
It was at secondary school that my parents died, my father in Form 1 and mother in Form 3. I was blessed to have the support of all older siblings, but the guidance about how to proceed after school was a gap that my teachers filled. It was because of these teachers that I placed 3rd in CSEC Agricultural Science and 1st in CAPE History and was eventually awarded an Additional National Scholarship.
Training at UWI and Ministry of Public Administration
I completed a BA English Language and Literatures in Education in 2009, and Diploma in Education in 2015 from University of the West Indies (UWI), St Augustine. And I did a MA English Language in 2019 from UWI, Open Campus.
I was first assigned to Corporate Communications in the Ministry of Public Administration for my national service. I had an excellent supervisor and mentor, Natasha Ramnauth whose lessons in attention to detail, foresight for impediments, and quick thinking prepared me a bit for teaching. In 2010, the Ministry arranged my appointment in the teaching service and that is how we are at this point.
Experience an unforgettable night in nature in a luxurious Jungle Bubble in the lush jungles of northern Thailand. Enjoy authentic Anantara luxury as you spend an evening and a night just metres from wandering herds of elephants. Arrive at sunset for romantic dining on your deck as you watch these majestic creatures settle in for the night. Then retreat to air-conditioned comfort for exquisite views of the night sky, and awaken with the elephants at the first break of dawn.
Volunteering work
Some volunteering work that I am doing are:
One of the three Staff Representatives at Trinidad and Tobago Unified Teachers' Association (T&TUTA) in Princes Town West Secondary School from 2020 to present
Floor Member of the South Eastern Educational District Staff Representatives Association 2021 to present
Trained T&TUTA Peer Counsellor
Volunteer Operator at the

Vaccine Hesitancy Hotline

launched last week.
Proud moments as a Trinbagonian
In terms of hobbies, I love the beach and ocean. As such, Tobago will always have a special place in my heart.
My proudest moment as a Trinbagonian is posting a picture of Lovers Bay and having friends from across the region messaging that it was one of the most amazing beaches they ever saw. I also like hiking, and have dabbled a bit of hunting and marksmanship.
Excellent mentors at Barataria North Secondary
The best experiences that I had with administration and staff was at Barataria North Secondary School. Schools like this are stigmatised due to academic performance, but have the most supportive staff a teacher can hope for.
When we speak about the BNSS Family, it is not cliché. The late Mr Francis was a teacher's Principal, he always pushed us to professional development.
Senior teachers like Ms Sampson, Ms Christian, Mr Redoy, and Ms Ramkhelawan were excellent mentors and team builders. They created an environment when the struggles of attaining academic achievement was constantly calmed by an environment of support.
Focussing on what I can change
As for bad experiences, I have seen so many. Child abuse, lack of parental involvement, incompetent administrators, teachers being jealous of the success of others, unsuitable teachers being assigned to classes with great potential.
That level of negativity is draining to think about. I rather leave alone what I cannot change and focus energy on delivering better lessons and providing pastoral care for students.
Coping with challenges in the teaching service
1. Admission
Admission is the first step to recovery. I accept that I will not be able to reach everyone. I will try to reach all, but a teacher must realise that all students can learn, just not at the same juncture in their academic career.
2. Mindset
In Islam there is a principle that the greater effort in a good deed result in greater reward. I see the challenges as an opportunity to do good, we are never given something insurmountable. If we start something by complaining we have signalled that we do not expect to succeed.
3. Self-care
I strategically use the long weekends for staycations and road trips. Results in a classroom is based on a teacher's effectiveness, not necessary how many hours spent in the class. You cannot be effective, if you are burnt out.
Join Coursera for free and learn online. Build skills with courses from top universities like Yale, Michigan, Stanford, and leading companies like Google
4. Collaboration
Teachers are trying to reinvent the wheel when they can join the myriad of collaborative initiatives available. Work smart, not hard. Share resources and strategies. No man is an island.
5. Boundaries
You can view every message, but you do not have to respond immediately. Put away the phone after an hour you are comfortable with, the messages and calls will be there when next you pick it up. Let people know your boundaries.
Advice for students, teachers, parents and administrators
Students
You only get what you put in. You can have excuses or you can have results, not both! The wealth that your parents leave for you and the good looks that give you the attention you crave are temporary, your education is not.
I will never tell you that you will become an expert in a field after school, in fact you will now be learning from experience, which is the best teacher. However, education is what opens the door so you can benefit from experience.
Teachers
You cannot give what you do not possess. Practice self-care so you can be at a physical and emotional optimum to meaningfully engage with your class. We forfeit some of our personal space when becoming teachers.
The way we behave in school, in our communities, and online are noticed by parents and students. If you want some parts of your life to remain private be more cognizant of your surroundings and what you share online.
Parents
Parenting is not the provision of material things to children. I have seen too many people focus exclusively on that and not develop relationships where children know you will always make time to speak to them.
Be prepared to have uncomfortable conversations with your children about religion, politics, sexuality and morality. If you do not have these conversations the children learn from social media, music and their friends.
Are you comfortable with this? Your children will not accept "Because I say so", learn how to communicate. I would recommend parents to enrol in the many Child Line courses as they really help with communicating with today's children. Upskilling is not just for teachers.
---
Choose from 183,000 online video courses with new additions published every month
---
Administrators
For the first time, the lives of your staff and students are in your hands. You now have to make the choice between what is good for them and what is good for an image. I pray you choose wisely.
Working with like-minded teachers
I believe in constant upskilling. This is why I try to do courses that have now become more available virtually due to the pandemic. I am fortunate to have found some like-minded teachers who have pioneered professional learning communities (PLCs) in English A and B, Communication Studies and Literatures in English.
I must single out Literatures in English as I have met English teachers with a passion that I can look up to and emulate their best practices that they are so willing to share. I will forever be grateful for the English teachers who started these initiatives.
Persuing Islamic Studies
I am also enrolled in a Higher Diploma in Islamic Studies. As one of my teachers said, "It is the Muslim that needs to be reformed, not Islam."
Ignorance, misconceptions and extremism only flourish in the absence of knowledge, this is why we must drown the voices of ignorance with the tradition of Islamic scholarship that is far removed from what is seen today.
Connect with Mr Basarally and other English teachers
Firstly, there is my YouTube channel Hassan Basarally where I share videos of some workshops I did. Then, I have made three different pages on Facebook for the subjects I teach. They stem from my personality and desire to make the classroom loud. Students should laugh, discuss, and question. They should not just quietly take notes.
Facebook pages:
Trinbago English Class: @trinbagoenglishclass
CAPE Caribbean Studies: @capecaribbeanstudieshb
CAPE Communication Studies: @capecommunicationstudieshb
The pages have a multitude of material aligned with the syllabus and information on my lessons classes. Before the pandemic my lessons classes were at the Princes Town Community Centre, but have now migrated online.
I can be contacted at 868 398 4545 or hassanbasarally@gmail.com.
When you buy something through our retail links, we may earn commission and the retailer may receive certain auditable data for accounting purposes.
__________________________________________
You may also like:
5G6.8-inch Display From $599.99ᶿOriginal Price:$1199.99
6.7-inch Display From $399.99ᶿOriginal Price:$999.99
6.2-inch Display From $199.99ᶿOriginal Price:$799.99