The digital currency or cryptocurrency vCash is designed to be used as electronic cash. Updated with the revolutionary privacy protocol, ensuring complete anonymity, scalability and fungibility. vCash – decentralised, confidential, hard money that can't be controlled or stopped. It's financial freedom for the masses.
Just like the invention of emails made it possible to send direct messages online, vCash makes it possible to send money directly to other people online. This will include being able to use vCash to pay for goods and services or you can exchange it for another kind of money, including US dollars, Euros and another fiat currency.
It is no longer necessary to settle for only two. By weaving the strengths of multiple independent blockchains together into one robust fabric, vCash (VC) confidential, composable, interoperable digital assets are moving the world's financial interactions on chain without compromising on custody, centralisation, censorship, permissionlessness or trustlessness. vCash also allows for transparent transactions, which are completely interoperable with shielded addresses.
vCash the digital currency will develop its own Blockchain
The brain-mind of this fascinating idea is Brian Pooley, the founder of vCash. Primary goal of Brian and his team is to create a decentralised, private and permissionless financial ecosystem where individuals have the power to securely and anonymously make transactions, without the need for intermediaries or central authorities, enabling true financial freedom for all. VCash will develop its own Blockchain.
The token will be linked and integrated with VCash's blockchain technology, as well as its network. It will provide the user with great facilities, digital cash, transparency, secure transactions, and financial technology.
It is free of mistakes and complications, and it is quick. vCash is currently launching their own token $VC on binance smart chain and they will be having their token presale coming up on Pinksale.finance where anyone can from public buy in cheaper price before token will be live on Pancakeswap.
Presale start date: February 5th, 2023 AT 14:00 UTC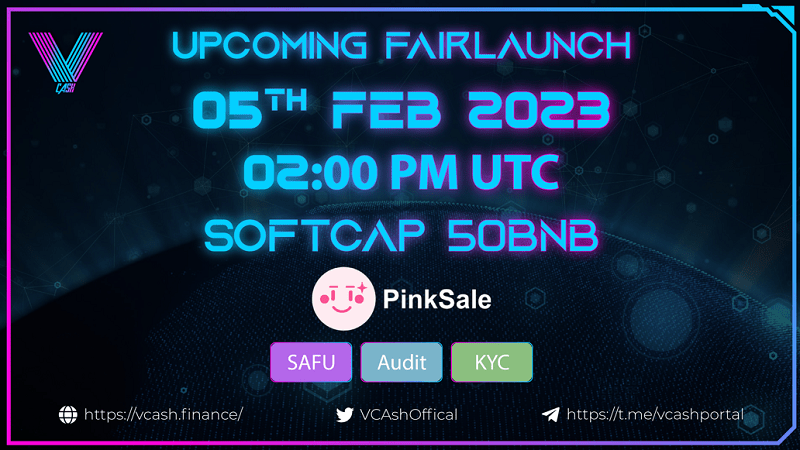 https://www.pinksale.finance/launchpad/0x4C54ccf0fC5E93A383BA7CdCE81c6880E052ddce?chain= BSC
https://twitter.com/VCashOfficial
https://medium.com/@VCashOfficial
Brian Pooley
Info (at) vcash.finance
– Globe Newswire, San Fransico, CA
_______________________________
Access stocks, ETFs, and more. Oh, and no commission fees. That's right. Zero. Nada. Zilch. Your first stock is even on us.
*Conditions apply
When you buy something through our retail links, we may earn commission and the retailer may receive certain auditable data for accounting purposes.
You may also like: