Sponsored Content: Study Zone Institute is located at #73 Eastern Main Road, Barataria (opposite Eastern Credit Union). It is a Trinidad private school that offers personalised learning to students writing S.E.A., C.S.E.C. and more.
The environment at Study Zone Institute is safe, stress-free and comfortable with air-conditioned classrooms. Classes are offered to students ages 10 and over preparing for the Secondary Entrance Assessment (S.E.A.) exam; Caribbean Secondary Education Certificate (C.S.E.C.) exam; students in Forms 1-5; repeaters; students who want a basic education in Mathematics and English; adult learners; and non English speakers.
Personalised tutoring services
The school offers personalised tutoring services to all students. This model addresses the particular strengths, weaknesses, personalities and sensory learning preferences of each student. The lessons consider the students' needs to ensure they learn at their own pace and are successful at exams.
School fees, times and subjects
Study Zone Institute offers affordable packages so that students can achieve their academic goals without financial worry. The cost of full time classes is TT$1,200 and after-school lessons is TT$750. These monthly fees cover all areas for S.E.A. (Language Arts, Creative Writing and Mathematics). For C.S.E.C., the fees cover up to 5 subjects. Currently offered are Mathematics, English A, Biology, Human and Social Biology, Principles of Business, Principles of Accounts, Social Studies, Geography and Caribbean History.
The cost for one subject is TT$300 for full time classes and $200 for after-school lessons. Special education fees are lower. These classes include students who want a basic education in Mathematics and English, Literacy classes, and English as a Second Language.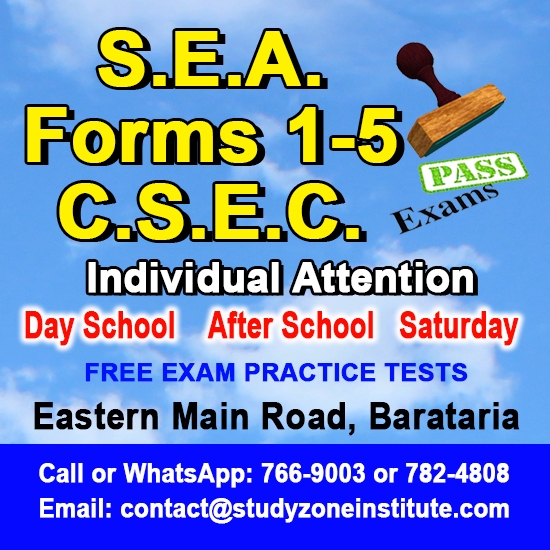 About Study Zone Institute
The tutors at Study Zone Institute are university graduates with over 15 years teaching experience. They aim to bridge the gap between struggling students at the primary level and their success at exams at the secondary level at any age. Since the year 2000, students ages 10 to 50 at Study Zone Institute have been successful in many areas.
The private school has recently relocated from Bushe Street, Petit Bourg to Eastern Main Road, Barataria. It offers small classes so that each student can receive the attention required. The classes have 10 to 20 students at a time. This environment allows teachers to use different teaching techniques that cater to different types of learners. Students are able to experience the lessons while seeing, listening, speaking, applying and co-operating with classmates.
Private candidates and examinations
Students who attend full time classes at Study Zone Institute are Private Candidates. These students must register for examination through the Local Registrar in their territory. Furthermore, they will write exams at a respective centre for Private Candidates. The staff at Study Zone Institute will keep students posted about registration dates and deadlines.
Register now
Personalised learning at Study Zone Institute means that students can register at any time. Since classes are small, space is limited so it is best to register as soon as possible. Interested persons can call, email or walk in to register for preferred courses and the time they would like to attend.
– Call or WhatsApp: 868-766-9003 or 868-782-4808
– Email: contact@studyzoneinstitute.com
– Walk in to Study Zone Institute located upstairs at #73 Eastern Main Road, Barataria, Trinidad (opposite Eastern Credit Union)
Website and social media – Trinidad private school
Visit the website at studyzoneinstitute.com to see articles for students, teachers and parents. Read about learning styles, types of students, learning environments, autism signs, focus exercises, technology for learning, and parents' involvement. Join the social media pages for the private school on Facebook and Instagram for updates on services and interactive posts.
December 2019
You may also like:
SEA exam: 5 tips for stressed-out parents
CXC/CSEC exam tips for students ready or not
Get educated, skilled for a better life
Improve your intelligence daily
Children with a lack of focus can make parents worry. While there are children who show off their good grades, scholarships, trophies and interest in continuous learning, others just don't care. Parents know their children have a lack of focus when they show interest in everything else but school.