The National Culinary Team of Trinidad and Tobago prepares to compete in the region's premier culinary competition Taste of the Caribbean. The event takes place at the Hyatt Regency, Miami from June 2 to 6, 2017. In aid of preparations, the Minister of Tourism, Shamfa Cudjoe, presented Team T&T with a cheque of TT$150,000 on May 1, 2017 as the Ministry of Tourism has partnered with the Trinidad Hotels, Restaurants and Tourism Association.
About Taste of the Caribbean
Taste of the Caribbean is an annual Caribbean food and beverage event designed for culinary professionals to network, polish professional skills and support their colleagues in competition. The competition also provides education through seminars, workshops, tastings and demonstrations, created to enhance performance, style and profitability in food and beverage operations.
The cheque presentation ceremony took place during the National Culinary Team's Practice Dinner hosted at the Savannah Terrace of the Hilton Trinidad and Conference Centre by the Trinidad Hotels Restaurants and Tourism Association (THRTA). The team presented a three-course meal that was well received by the guests who were asked to leave feedback on each dish. The team will host other practice dinners as they continue to prepare for the Caribbean competition.
Minister Cudjoe, during the presentation ceremony, wished the culinary team all success and conveyed her confidence that the team will achieve no less than gold medals at this year's Taste of the Caribbean event. Minister Cudjoe indicated how she has witnessed the commitment of the team to perfection and their determination to beat last year's almost perfect score of 99.96.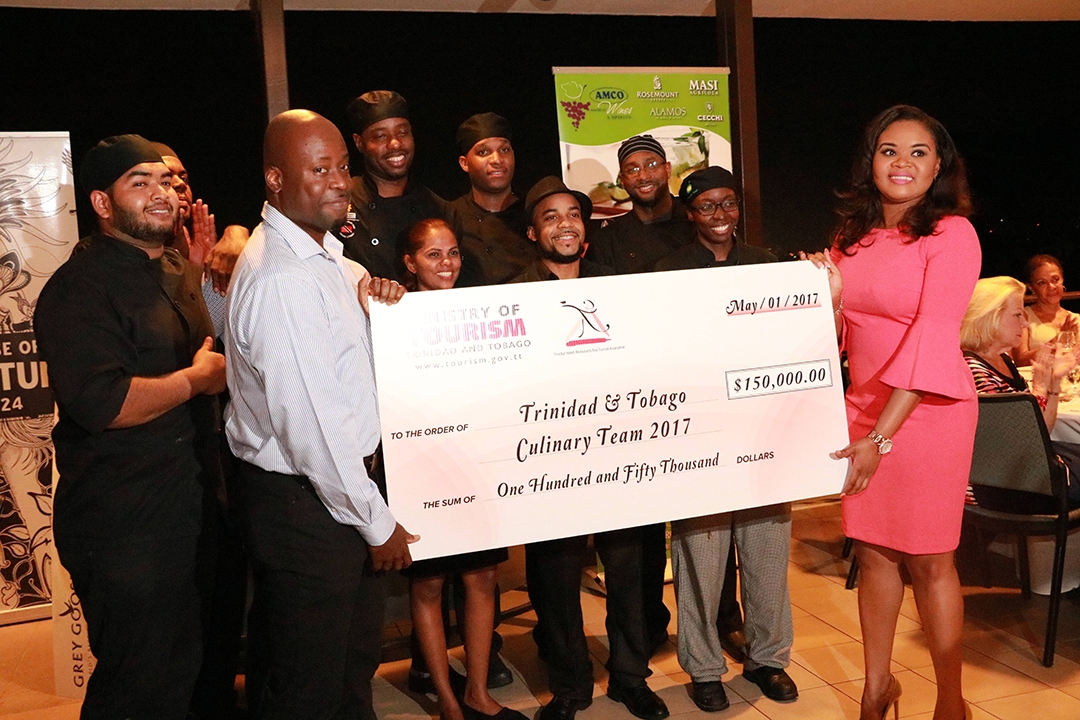 The 2017 Trinidad and Tobago Culinary Team comprises:
Adrian Cumberbatch – Captain of the National Culinary Team
Brandon Maharaj      – Chef
Aswad Forde             – Chef   
Tyrone Benjamin      – Bartender
Anasuya Jackson       – Pastry Chef
Rondell Thompson    – Junior Chef
Ridge Juman              – Alternate Chef
Shana Rajahram        – Alternate Bartender


Team T&T winners at Taste of the Caribbean
Over the past 20 years, Team T&T has entered Taste of the Caribbean 13 times, winning 76 medals – 32 gold, 30 silver and 14 bronze. Trinidad and Tobago is also the only country to win the coveted title of Caribbean National Team of the Year an unprecedented six times.
In 2016, National Culinary Team overwhelmed their Caribbean counterparts by winning the Caribbean Team of the Year as well as five other Gold medals and two silver medals.


May 2017   www.sweettntmagazine.com
You may also like: