When people give you advice like "if you want to find energy you need to exercise", they should also let you know that in order to exercise you need to have energy. The paradox is real and many people find themselves stuck between these two contradictory conditions.
Being able to find energy every day to move your body for 30 minutes to one hour doing a number of activities that do not show visible results immediately is an exercise struggle for a lot of people.
At least, with very little energy, after cooking, you have a tasty meal to enjoy, cleaning, you get a spotless home, washing, you receive clean clothes, and doing 8 hours of tedious work at your job, you earn an income.
But when it comes to the exercise struggle, while feeling exhausted, you have to warm up slowly, speed up the pace to build a sweat and then cool down with more movements. Then, there are the different types of exercises that you should do on specific days.
After all of that hard work, your scale disappoints you and you feel to give up. Here is a routine that you can use to find energy to overcome the exercise struggle.
10 steps to find energy to exercise
1. Cut down on sugar and carbs
Your body needs sugar and carbs to give you energy but consuming too much of them that are bad for you causes your lethargy. If you load up on bread, pastas, potatoes, dumplings, rice, provisions, pizza, fries, donuts, hotdogs, cake, ice-cream, cookies, and a giant soda daily, then you have big problems.
You end up with unwanted weight, feeling tired all the time and dealing with the exercise struggle. Here is what you do. Cut out the unnecessary sugars and carbs from your diet. You know exactly what foods you do not need to have.
Do not even try to substitute your cravings with sugar-free cakes and cookies at the supermarket. They are loaded with flour and other ingredients that contradict your mission to find energy to beat the exercise struggle.
Qardio QardioBase 2 Smart Scale Body Analyzer
Choose from a variety of innovative modes to reach your weight and body goals with the QardioBase 2 Smart Scale Body Analyzer from Qardio. Track your weight, BMI and changes in your body composition, including muscles mass, fat, water and bone.
2. Drink 2-3 litres of water a day
We all know that water is an essential part of our lives as our body calls for it especially on a hot day. Some people drink water all day to feel hydrated and refreshed. Then, there are others who deliberately avoid drinking water because "it does not taste good" or "it makes them pee too much".
According to Everyday Health, water protects your tissues, spinal cord and joints, it helps your body remove waste, aids in digestion, prevents you from becoming dehydrated, helps your brain function optimally, keeps your cardiovascular system healthy, and helps you eat healthier.
You will be surprised to know that drinking water daily allows you to find energy to function. Women should consume 2 litres and men 3 litres of water a day. This will give you the start you need.
3. Balance your meals daily
In all your meals, make sure to add an equal portion of each food group. Balance your share of staples, vegetables, fruits, legumes, protein, foods from animals, and fats and oils. Have a small portion of either bread, rice, pasta, noodles, potato or any of your favourite provisions.
You can go wild with broccoli, spinach, tomatoes, cucumbers, carrots, kale and cabbage. Enjoy meats and fish stewed or grilled, and ease up on drenching them in oil to fry. Have a little butter, cheese, and eggs but do not overdo, it will contradict your attempts to find energy to get up and go.
Try using less sugar in your coffee or tea and drink real fruit juice with no added sugar. For dessert, eat an orange, banana, apple, grapes or have a handful of nuts and raisins, cranberries and blueberries. A balanced diet improves your mood drastically.
4. Develop a calming routine
You will experience the exercise struggle if you are stressed out. When your mind is cluttered with worry, you do not have the time and energy necessary to take care of yourself.
An article on WebMd states, "People who are stressed often neglect healthy lifestyle practices. They may smoke, drink more than normal, and neglect regular exercise."
Experts have suggested that you ease stress by exercising. This is another catch-22 situation like the exercise struggle that you face since the stress is causing you not to exercise, but you need to exercise to destress.
If stress is your underlying problem for fatigue, then you have to find a suitable calming strategy as soon as possible. Try destressing with music. Create a playlist on your phone or YouTube with all your favourite hits from different genres.
Get headphones and enjoy your jams as much as possible. You can try writing out what is bothering you in a journal.
Express yourself fully in writing and if brought to tears, let it flow. Also, you can play relaxing games on your phone like Text Twist, Candy Crush and Farm Heroes.
Athleta
Alone we are strong, united we thrive.Together we create the Power of She.
5. Sleep well to fight the exercise struggle
The reason for your tiredness may be due to a lack of proper sleep. There is a difference between sleeping uneasy and sleeping soundly for 8 hours a night.
The Sleep Foundation states, "Quality sleep is continuous. Sleeping straight through the night with minimal disruption is more restorative than having your night's sleep interrupted frequently or for long periods of time. Disrupted sleep interferes with the natural process of cycling through all four stages of sleep and may keep you from getting a healthy amount of deep sleep and REM sleep."
To get a proper sleep at night, you can try strategies to relax your nerves. You will sleep better and win the fight against the exercise struggle.
SAVE $200 ON OUR LATEX MATTRESS — USE CODE: EARTH
Save big on our incredibly supportive and totally biodegradable All Latex and Vegan Latex mattress with no springs.
Offer cannot be transferred or combined. Discount must be applied at time of purchase. 
6. Take supplements
Your body needs a lot of vitamins, minerals and nutrients that you may be unable to obtain only from the foods you consume. These are vital in making your brain and body healthy and function properly.
When you lack proper nutrition, your immune system is weakened, you become vulnerable to the flu, your bones become brittle, you age faster, you lack focus, you feel tired and your organs fail.
Make yourself healthy by taking supplements that give you vitamins A, B, C, D and E, calcium, magnesium, folate/folic acid, iron, selium, and zinc. Also, you may try hacking your biological age with the right supplement. You will feel different and ready to do your exercises.
7. Make a schedule
Just like drawing a plan to build a house or write an essay, you need to make a schedule to manage your life. Without a timetable, you may be waking up and going to bed late, missing breakfast, eating lunch in the evening and dinner at midnight, forgetting to take your supplements and feeling awful during the day.
You are probably struggling to find energy and need to make a plan. Set daily reminders or alarms on your phone to wake up, go to bed, eat balanced meals, take supplements, drink water, do relaxation techniques and exercise.
If you find yourself ignoring your reminders, then you are not trying hard enough in the exercise struggle. Stick to your schedule and your life would come together as you wish.
Nike Yoga Dri-FIT Women's High-Waisted 7/8 Cut-Out Leggings (Plus Size)
The Nike Yoga Dri-FIT Leggings wrap you in soft, stretchy fabric that's perfect for your flow—or anywhere else your day takes you. They bring purpose to your practice with a high-waisted design made from at least 75% recycled polyester fibers. Open detail decorates the lower leg to help keep you cool when your practice heats up.
8. Practise yoga
Yoga is the best form of exercise to get you started on your mission to find energy. You do not need much energy to breathe deeply, sit up straight and stay still, stretch your ligaments slowly, and hold positions for some seconds.
These moves warm up your body for more challenging poses that help you to burn calories. You may try downward facing dog, planks, cobra, warrior, half moon and pelvic floor exercises.
According to eMediHealth, some vigorous yoga poses are sun salutation, arm balances, handstand, forearm balance, upward rooster, and boat pose. Yoga allows you to build a sweat on one spot if you are not ready to move around to work out, you burn calories and the results are just as effective as other types of exercises.
The Nike Yoga Hoodie is made with soft fleece for warmth before and after practice—or whenever you need the comfort. The sweat-wicking design has an asymmetrical zipper and oversized hood.
$100
9. Walking and stepping up
Walking briskly and stepping up and down on a block are easy and effective exercises to give you some energy. For walking, you can do it around your home, the block, a savannah or on a treadmill.
The aim is to move your body consistently for a long period. Start off slowly, speed up your pace and then take it down. Move your arms also to burn calories all over. To do your stepping, you will need something on which to step up and down, like a step, block or an exercise board.
To upbeat music, step up with your right foot, and then let your left foot follow. Step down your right foot and then your left. Repeat this until the song is over.
Then, on a new song, step up with your left foot and let your right foot follow. Do this routine for 30 minutes straight. You will build a sweat, have fun and feel energised.
10. Jogging, running, cardio and strengths
To find energy, your mind and body will be ready to do all the exercises that you have been hoping to do for so long. Pick up the pace with jogging and get your heart rate pumping like you have never felt it before.
After doing this for a while, you can graduate to running and doing cardio exercises. Mix in a few strengths to feel the burn even more but do not push yourself over the limit.
Listen to your body when you do your aerobics, squats, lunges, push-ups and jack knives. Remember that everyone is different and a little every day would make you reach your goal.
___________________________________
You may also like:
Emailed in Approximately 2 Hours or Less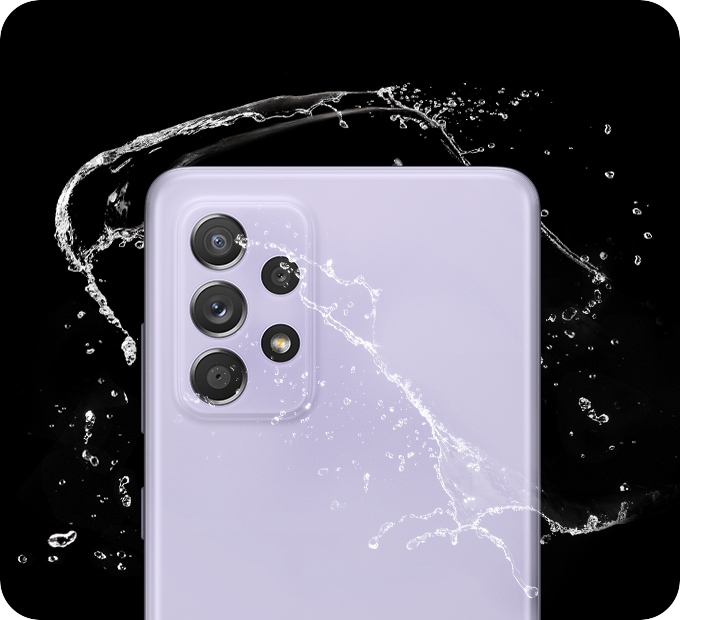 Now spill, splash and splatter resistant
Rated IP67 for water and dust resistance, this phone stands up to 1.0 meters of water for up to 30 minutes.¹ So it's fine to keep on playing and capturing if your phone gets a little wet.