You spend hundreds and even thousands of dollars on therapy to improve your health every year, which is good. But have you ever paused to find out that you can have the same or even better results by just changing a few lifestyle habits?
It goes without saying, what you do today, you get to reap tomorrow. And if you've been having thoughts of improving your lifestyle for good lately, then you're not alone. Introspection and reevaluation is a normal part of life that we all go through.
But waiting up on the new year to kick-off your perfect routine is no less than living in a fool's paradise. You can improve your physical, mental, and emotional health by just changing the way you do things starting today. So, here is what might help you out to live a healthier life.
Improve your diet
It is never easy to give up lifestyle habits that you've been practising for years. Here is a list with the easiest lifestyle change you can make right away. Diet plays probably the most important role in our lives.
Unhealthy eating habits lead to a number of illnesses and diseases. Obesity, diabetes, certain types of cancers, cardiovascular conditions, and even some mental health issues stem from a poor diet. But you can change that by switching to a healthier side of eating.
The mistake we commonly make by choosing a diet for ourselves is that we rush into it too quickly. Strict and abrupt weight-loss exercises like Keto and Atkin's never work in the longer run. You have to understand that it's a lifestyle change you're making, and it will take time.
It's always best to start small. Switching from processed foods to organic and needless snacks to nuts and dried fruit is a significant enough start. And as long as you have a bunch of leafy greens and fruits on the table, you're good to go.
Having plenty of vegetables and fruits on your diet helps you detox and keep up your vitamin count for the day. Knowing this, you can very well craft out a plan for your own, which will be much easier to follow.
Make time to destress yourself daily
When thinking of lifestyle changes to improve our health, we think of all the things that affect our physical health. Although being physically fit and healthy does improve your mental health, it still needs specific care.
There are tons of stressors that you come across in your daily life. It may be the blaring horn of an annoying driver behind you in traffic or your boss being extra bossy. And without dealing with the stressors effectively, they affect your productivity, mood, and even physical health.
You can destress yourself in many ways. It may be spending time with your loved ones, engaging in something creative, or even meditation. Having somebody to talk to about your problems is highly therapeutic and helps you unwind your daily problems. And doing something creative or what you love gives you a feeling of satisfaction and fulfillment.
However, meditation is by far the best way to destress yourself. Mindfulness and meditation have been practiced across many cultures for thousands of years. And because of its effectiveness, it is still one of the most recommended ways of therapy. Now that there are so many guided meditations online, it's easier than ever to get into the habit of it.
Exercise and working out
Everyone loves the idea of being fit and in shape, but not everyone is willing to put in the effort it requires. Exercise is probably the best lifestyle change you can make to improve your physical and mental health.
Working out boosts your immunity, puts you at a lesser risk of illnesses, improves your mental health, and makes you a little harder to kill! If you observe happy and successful people's lives, most of them will have one thing in common. They will have some sort of physical exertion as part of their daily lives.
But when we talk about starting to work out, we tend to raise the bar too high for ourselves. Getting straight into high-intensity workouts is a call for motivation but not very realistic. Even mild amounts of physical exertion can be highly effective if carried out frequently.
And if you don't like the idea of putting your body under such stress at all, you can work on making your workouts more fun. Partner up with a friend for the gym or start other activities involving quite a bit of exertion. Joining a cycling club, dance class, or getting a swimming membership are excellent places to begin your workout routine.
Get enough sleep daily
If you didn't already know, sleep is one of the most important parts of your daily life. It practically makes up a third of our lives. And if you don't get it right, it will cause a number of health issues to deal with.
The best recommended time for daily sleep is anywhere between seven to nine hours. Overdoing or underdoing it is more or less the same thing. Being sleep deprived shatters your productivity. And oversleeping makes you much more sluggish and lazier.
Improving your sleep takes you a step closer to healthy living. As recent research comes forth, we now know that your sleep quality is as important as the duration. Twisting and turning in bed too much or waking up every now and then doesn't let your mind and body to recover their strength fully.
And how do you improve your sleep quality? Well, there's more than one way to get around to that. For starters, limit screen exposure around your bedtime. Screens emit blue light, and that is specifically what compromises your deep slumber. Other than that, you can try medicinal vape with CBD carts to fall asleep quickly if you have trouble sleeping.
Do something for yourself every day
As much as your health's physical and mental aspects are important, you shouldn't miss out on your emotional well being either. No matter how busy you are, always try to make time to do something that you love.
When was the last time you read a book by your favourite author, went out travelling, or went to an event that you loved?
Pick up a hobby, whether it is reading a book, watching a comedy, or travelling. Doing what you love for even 10 minutes every day will bring you joy and fulfillment. Experts recommend incorporating some part of your day into what makes you happy.
One of the biggest mistakes we make while growing up is letting go of our childhood hobbies. But, it's never too late to catch up on your idea of a "good time" either!
Ending thoughts
We all live different lives and what may seem right for one isn't necessarily a perfect fit for another. Still, the five points mentioned above are somewhat universal for healthier living. It's not one-size-fits-all. You can pick what you like and make changes to the other to adjust. So long as you see improvement in your lifestyle, it's all good to go.
We make it easy to shop from Trinidad And Tobago with:
All prices in U.S. dollars
Duties and taxes calculated at checkout
Low international shipping rates
Guaranteed landed costs (no additional charges at delivery)
More information about shipping internationally is available on our website.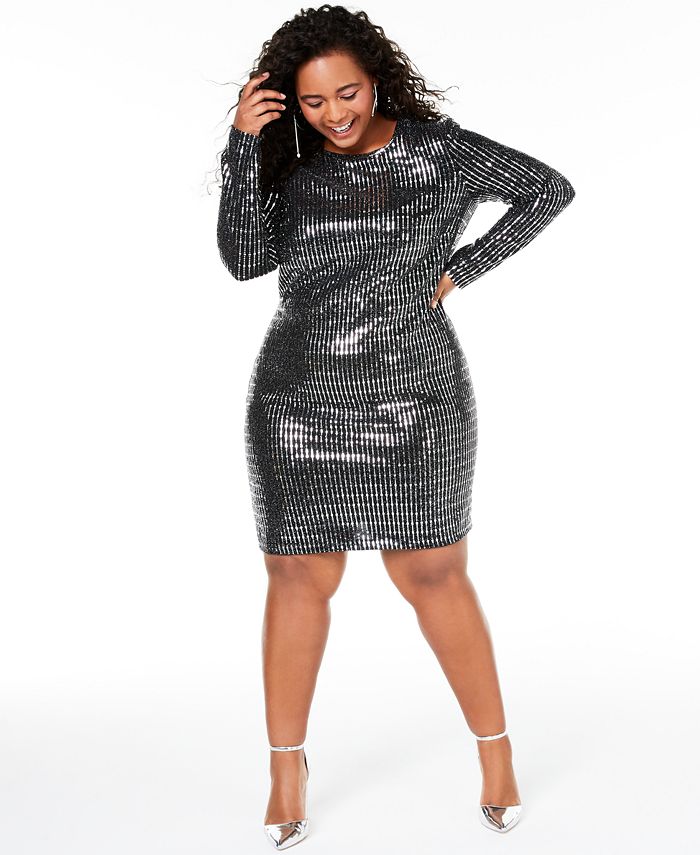 Morgan & Company's fiercely flattering plus size dress rocks a curve-hugging bodycon silhouette and tons of sparkling metallic detail throughout. Long sleeves give the look all of the coverage you want.
Allover metallic detail
Imported
Pullover styling
Savings Based On Offering Prices, Not Actual Sales
Size & Fit
Approx. 36-1/2″ long from center back neck to hem. Length is based on size 1X and varies 1/4″ between sizes
Approx. model height is 5'10" and she is wearing a size 1X
Scoop neckline; Bodycon silhouette
Materials & Care
Machine washable
Shell: nylon/metallic threading/spandex; lining: polyester
Plus Size Paisley Gathered Peasant Top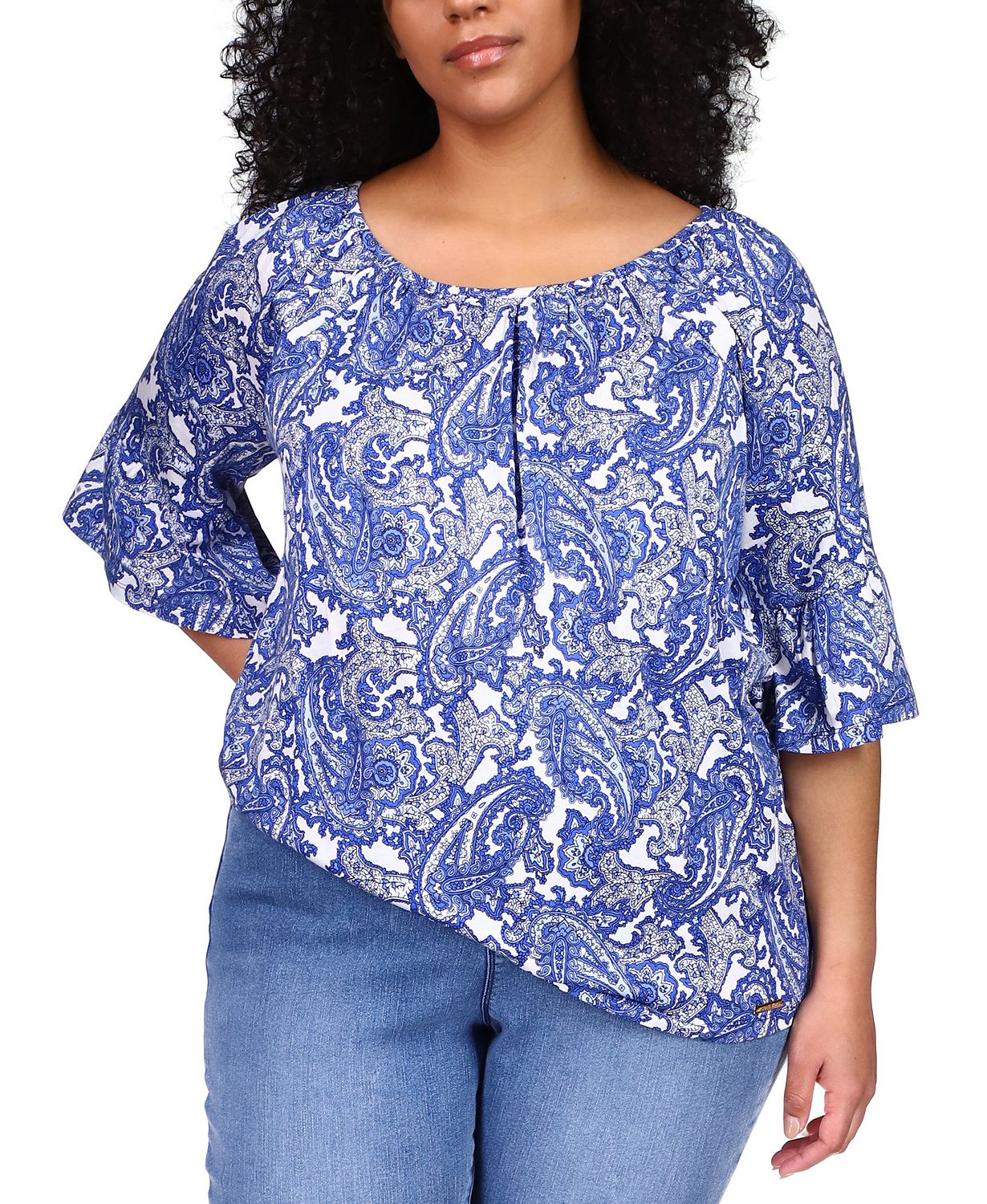 Go for a soft, feminine look with this plus size peasant top from Michael Michael Kors featuring a pretty paisley print.
3/4-sleeves with ruffles
Imported
Scoop neckline with gathering
Size & Fit
Approx. 28-1/2″ long
Model is wearing size 1X
Materials & Care
Cotton/modal
Machine washable
Plus Size Ruffled-Sleeve Wrap Top
Orig. USD 88.00
Now USD 26.36 (70% off)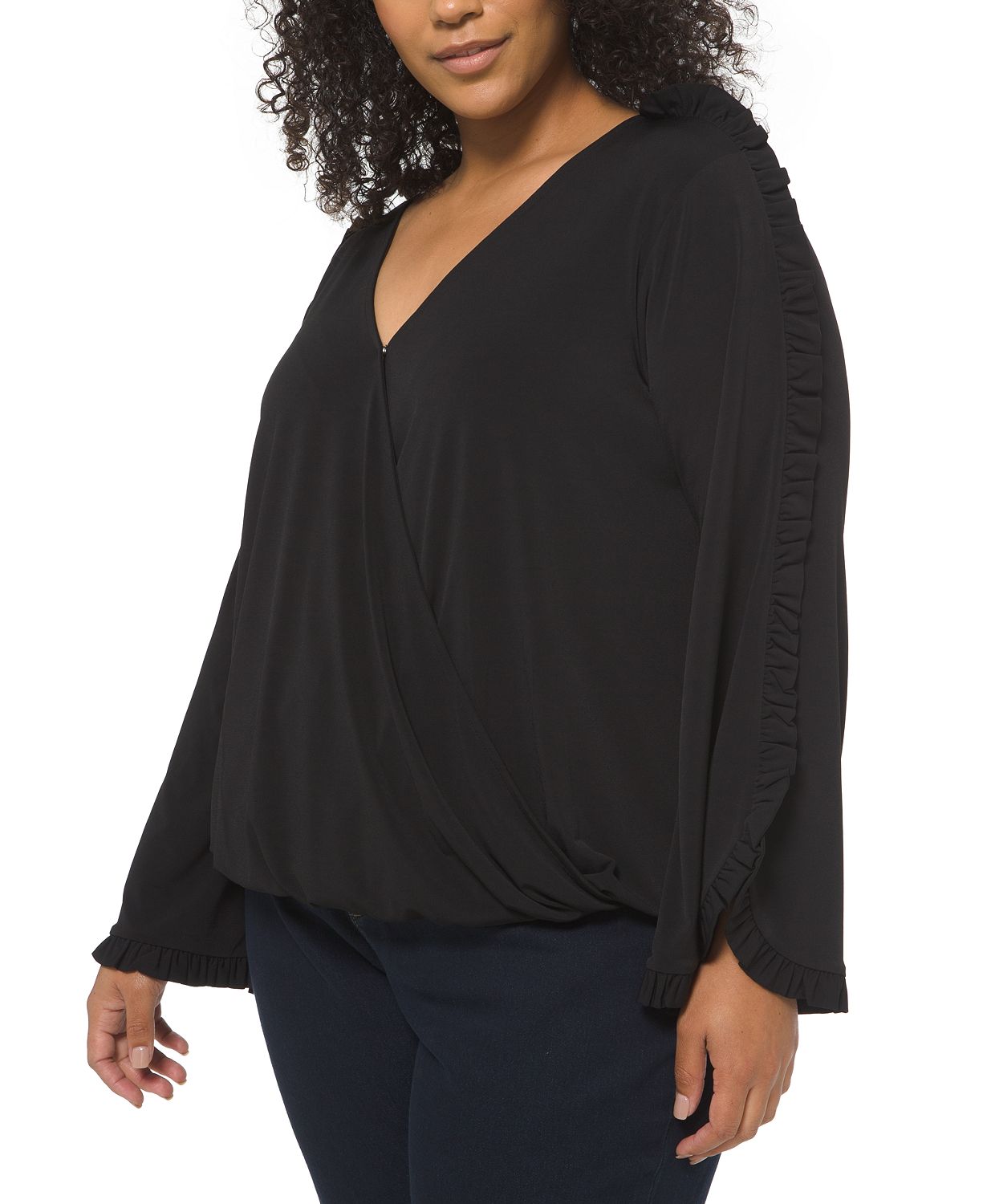 Michael Michael Kors provides the fashion detail you've been looking for with this ruffled bell-sleeve top, featuring an elastic-trimmed hem for a comfortable fit.
Elastic-trimmed hem
Imported
Ruffled bell sleeves
V-neck
Materials & Care
Machine washable
Polyester/elastane
Plus Size Crochet-Sleeve Necklace Top, Created for Macy's
Orig. USD 64.50
Now USD 18.93 (70% off)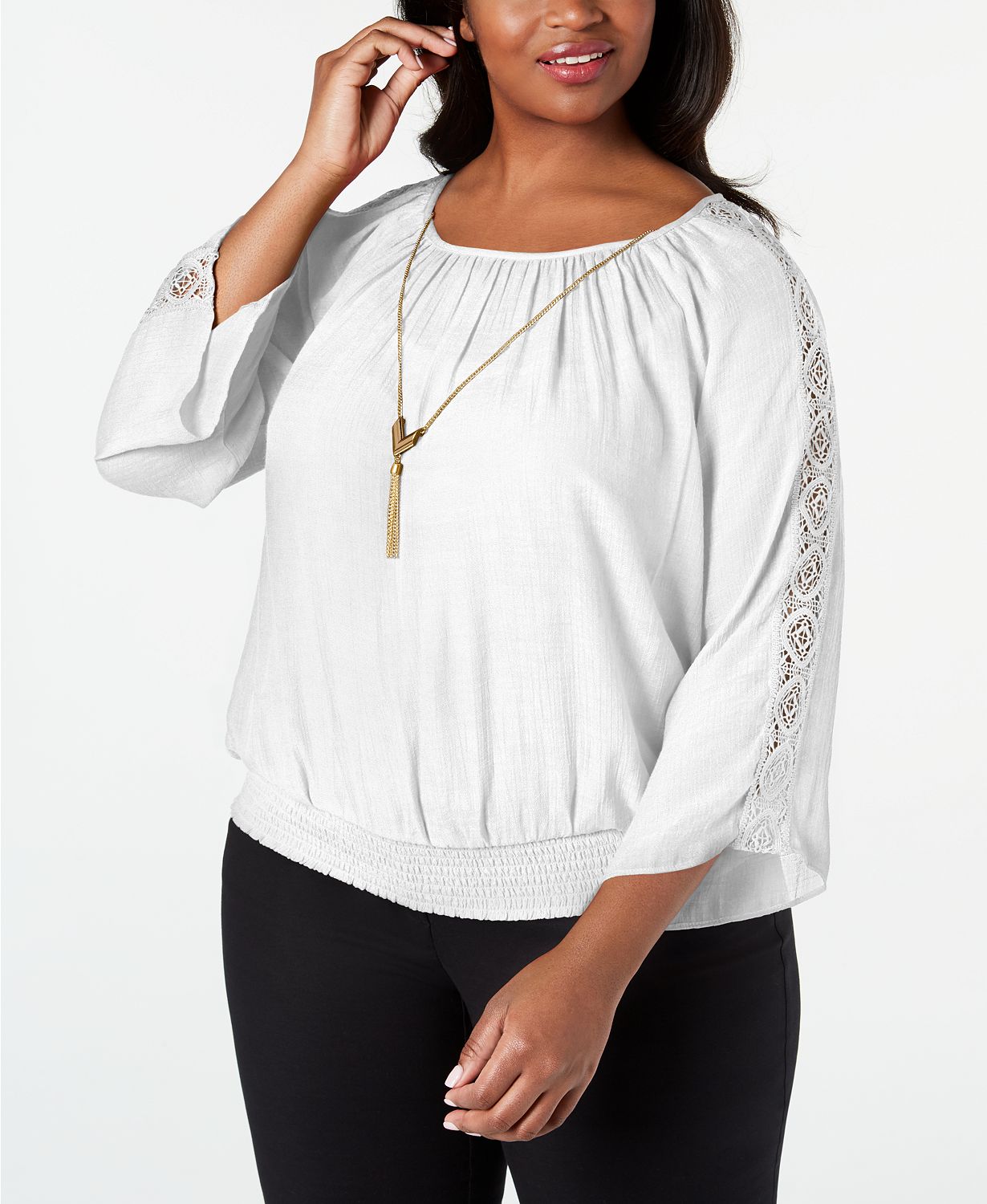 Sheer fabric billows over a smocked waistband, bringing lovely flow to this relaxed plus size top from JM Collection. Crochet trim and a removable necklace complete the look.
3/4-sleeves with crochet trim
Created for Macy's
Imported
Scoop neckline with gathers, removable necklace
Smocked waistband
Size & Fit
Approx. model height is 5'10" and she is wearing a size 1X
Relaxed fit; hits at hip: approx. 26-3/4″ long from center back neck
Same Great Fit. Same Great Brand. New, Fresh Label
Materials & Care
Machine washable
Shell: rayon/polyester; lining: polyester