The organisation team of the Atlanta Caribbean Carnival, the Atlanta Caribbean Carnival Bandleaders Association (ACCBA) is pulling out all of the stops and is already in rollout mode for the evolution of the annual cultural extravaganza which is set for May 26-29, 2023.
Coming off of an action-packed Miami Carnival experience in 2022, the Caribbean Diaspora as well as international carnival enthusiasts from various backgrounds are already eagerly anticipating the 36th installment of what many consider to be North America's fastest growing Carnival.
The festival which is carded for Memorial Day Weekend (the unofficial US summer event kick-off weekend) made a bold statement in 2022 and underwent noticeable growth in terms of size, patronage, popularity and interest from both traditional and mainstream audiences & stakeholders.
Downtown Atlanta Caribbean Carnival has new parade route
For 2023's execution, ACCBA has put early planning, confirmations and even some changes in place to ensure that Caribbean culture will be properly on display in a successful and logistically appropriate manor during the annual Georgia state capital affair.
Some of these changes include a new time for the beloved official ACCBA J'ouvert event which will take place at Atlanta's Silverbacks Stadium Park on Friday May 26th, 2023 from 9am to 3pm (a departure from its previous Friday night into Saturday morning timeslot).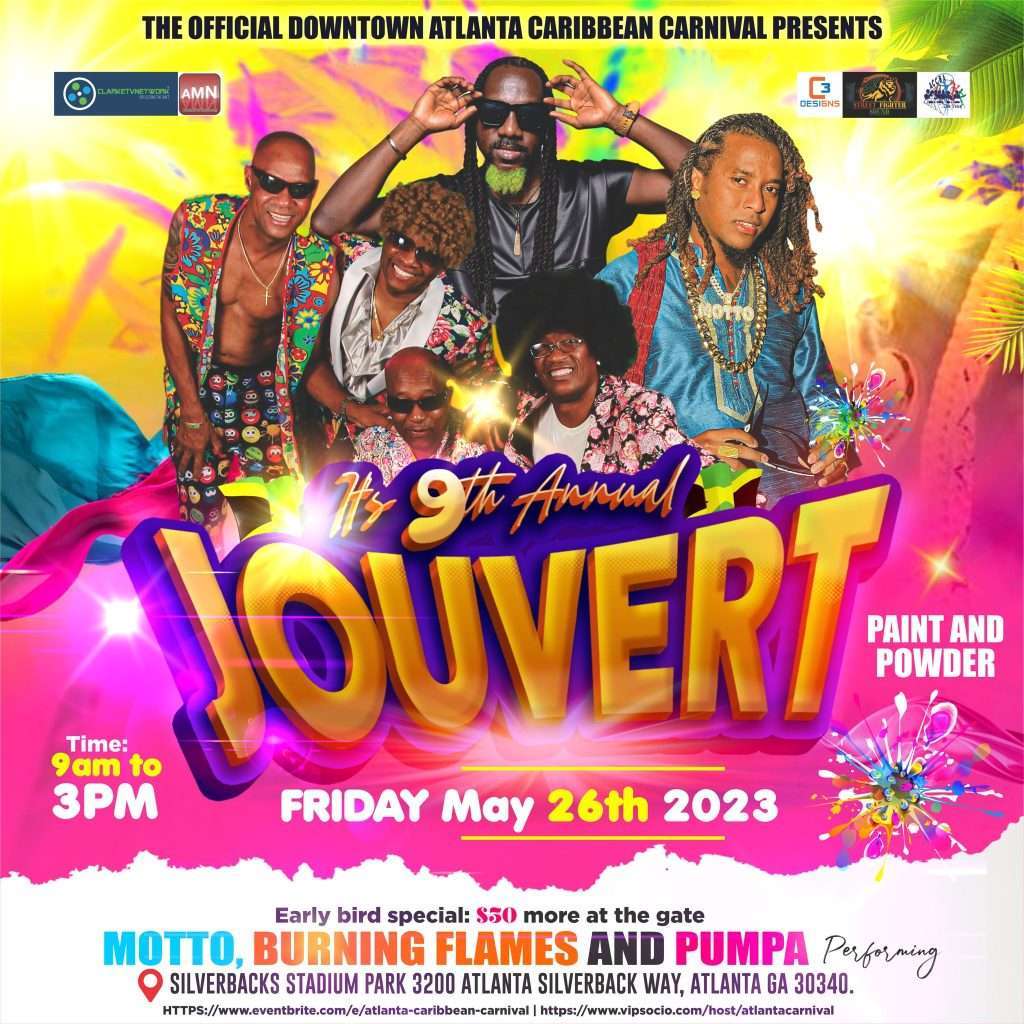 With the ever-increasing interest from participants and spectators for the official downtown Atlanta Caribbean Carnival, the organisers have confirmed a new parade route for 2023 with an all-new accompanying post-parade concert venue, which is set to invigorate the Westside Park on May 27th 2023 from 10am to 11pm.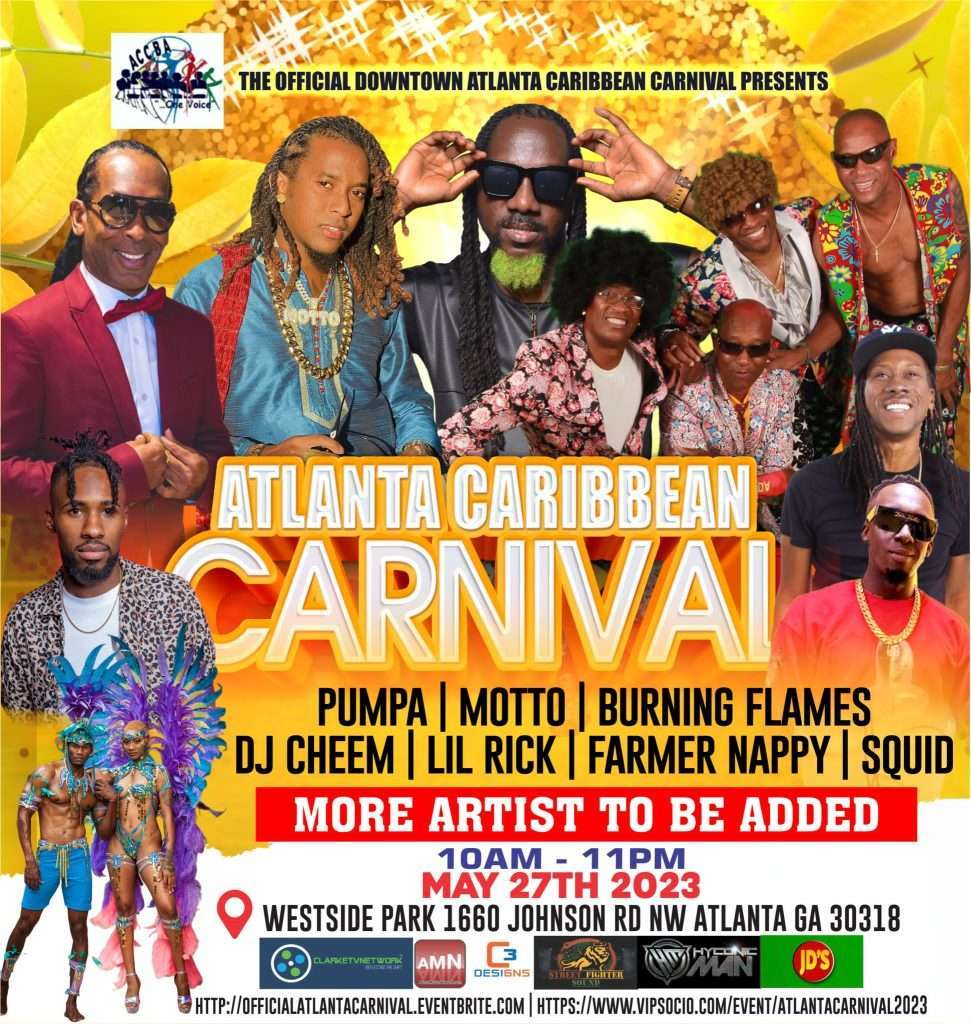 The organisers have also confirmed the return of the Children's Carnival festivities (complete with the sounds of steelpan music) which is set for two weeks prior to the major parade on May 13th.
New park offers more space for concert events
President of ACCBA Patricia Henry shared, "Our team is truly excited for the return of Atlanta Caribbean Carnival. After listening to feedback from our stakeholders, patrons and the city of Atlanta and considering the appeals from our bandleaders for extra miles on the parade route, we are aspiring to provide that experience once approved by the authorities and we're happy to deliver more space for our concert events with a new park; our biggest park in Atlanta."
Experience an unforgettable night in nature in a luxurious Jungle Bubble in the lush jungles of northern Thailand. Enjoy authentic Anantara luxury as you spend an evening and a night just metres from wandering herds of elephants. Arrive at sunset for romantic dining on your deck as you watch these majestic creatures settle in for the night. Then retreat to air-conditioned comfort for exquisite views of the night sky and awaken with the elephants at the first break of dawn.
During the 2023 Atlanta Caribbean Carnival, the musical talent of the Antilles will be front and centre as ACCBA has already confirmed an engaging entertainment line-up. This includes T&T's Farmer Nappy, Barbados' Lil Rick and DJ Cheem, Antigua's Burning Flames, USVI's Pumpa, dancing sensation Squid and St Lucia's Motto (who will also serve as the 2023 Parade Grand Marshal and will additionally receive a proclamation from the city of Atlanta).
Opportunity to tour famous sites in Atlanta
In addition to experiencing an occasion which is rich in Caribbean energy and culture, visitors to Atlanta's Caribbean Carnival will also have the opportunity to tour the destination's famous sites. Some of these are:
The Georgia Aquarium
The Martin Luther King Jr National Historical Park
Centennial Olympic Park
The World of Coca Cola
The CNN Headquarters
The State Farm Arena
The Westin Hotel Peachtree Plaza is the official host hotel for the 2023 Downtown Atlanta Caribbean Carnival.
Experience Atlanta Caribbean Carnival from May 26th to 29th, 2023. For further info, hotel booking and event tickets please visit www.atlantacarnival.org/ and follow the brand on social media via: Facebook: www.facebook.com/AtlantaCarnival & Instagram: www.instagram.com/officialatlantacarnival/
– Sonique Solutions, Atlanta, GA
___________________________________
When you buy something through our retail links, we may earn commission and the retailer may receive certain auditable data for accounting purposes.
You may also like:
Fade (and forget) dark spots with this simple, no-mess dark spot corrector. Made with derm-approved ingredients that are clinically proven to reduce hyperpigmentation, stop sun, acne, and life from leaving a mark.
US$25