Grayjay is a new app allowing you to follow your favourite video creators and not the platform that is hosting them. This might be just what you need to improve your online video viewing.
In the world of online video content, we often find ourselves confined to the duopoly of Twitch and YouTube, where 99% of our online video experiences are dictated.
However, this status quo has its limitations and challenges. This article explores a revolutionary solution to these problems, a project that has been meticulously developed over the course of a year.
We build custom PCs around your budget, optimized for the games you love, all protected by a 2-year warranty.
Select your chipset and budget
Pick your parts and peripherals
We build and ship your PC!
The predicament
The first issue that plagues the world of online video content is the dominance of Twitch and YouTube. These two platforms are the giants, controlling a staggering 99% of the content consumed online. But the problem is that switching to alternative platforms is often an unwelcome endeavour.
Adopting a new application for every new platform becomes tedious, and the new apps are typically optimised for specific platforms, making them limiting. Users often feel they are missing out on the vast universe of content available, driving them back to the mainstream platforms.
The second major issue is the ownership of user identity. When users subscribe to content creators, they're essentially subscribing to a platform. The platforms hold the identity, not the users.
This is problematic because platforms are known for arbitrary censorship and can remove users without a clear reason. Creators don't own their identities on these platforms, and even after a decade of presence, their accounts can be terminated instantly.
Introducing Grayjay, a groundbreaking application designed to tackle these issues head-on. Grayjay is an application that reimagines how we watch online videos.
It offers several features and a unique approach to the online video viewing experience:
Cross-platform support
Grayjay is designed to work with various video platforms like YouTube, Odyssey, Twitch, and more. It features an open plugin interface, enabling users to integrate their preferred platforms.
This means you can enjoy content from different platforms in one place, eliminating the need to switch between multiple apps.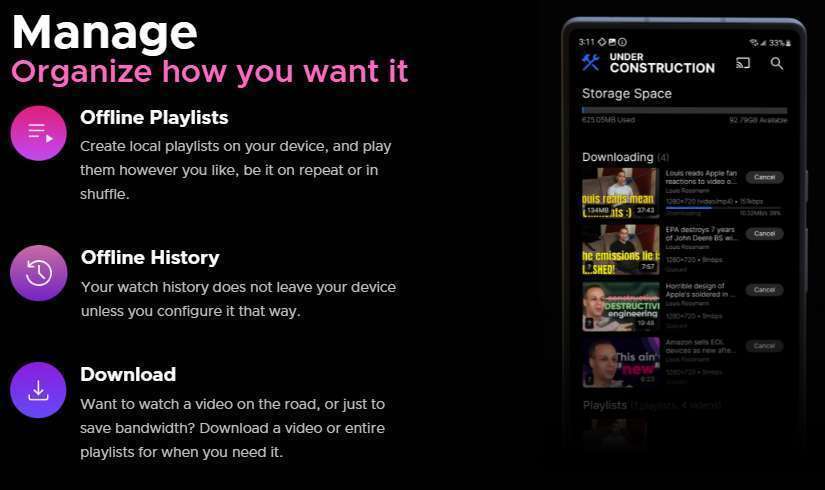 Immediate playback
Grayjay ensures an efficient viewing experience with almost instant video playback. This eliminates the frustrating load times seen in standard applications.
Precise video control for the dedicated video professional
Supports 8K/60P Internal RAW Recording
Up to 4K 120P slow and fast Motion Recording Mode in 4:2:2 10-bit
Canon Log 3 expands expressive possibilities
Digital interchangeable lens capable of enabling stereoscopic 3D 180° VR shooting to a single image sensor
Streamlined VR Workflow
Stereoscopic 3D with an interpupillary distance of 60mm for natural parallax, with 190° field of view
Includes free software voucher* for EOS VR Utility Software or EOS VR Plug-in for Adobe Premiere Pro Software**
Was US$5,799.00 Now US$5,299.00 
Download capability
The app includes a functional download button that allows users to save videos for offline viewing. No more hassles with broken or fake download buttons. This one works as expected.
Centralised subscriptions
Grayjay provides a unified subscription feed that consolidates content creators from various platforms. You can subscribe to creators directly rather than subscribing to their profiles on specific platforms.
This approach offers more security and control for creators and ensures you don't lose touch with your favourite content if they change platforms.
Identity ownership
Harbor introduces a new concept of sovereign identity. With this, content creators can own their identities and users can have confidence that they're subscribing directly to the creators.
24.2 Megapixel full-frame CMOS image sensor
Dual Pixel CMOS AF II
Uncropped 4K movie at up to 60 fps that is oversampled from 6K
Max movie record time of 2 hours
In-camera compositing
2.36 million dots OLED EVF
3.0" 1.62 million dots vari-angle LCD touchscreen
UVC/UAC compatibility for webcam and streaming
Compact and lightweight unidirectional stereo (120°) microphone
Tripod grip with bundled wireless remote control
 Was US$1,899.99 Now US$1,699.99
If a creator is removed from one platform, they can still maintain a presence and communicate with their audience through Harbor.
Comment section overhaul
Harbor also addresses the comment section woes. It allows users to view both platform comments and off-platform comments, putting the power back into the hands of users and creators, and promoting better communication and engagement.
24.2 Megapixel CMOS (APS-C) sensor
4K uncropped movie at up to 30 fps oversampled from 6K
Dual Pixel CMOS AF II
Movie for Close-up Demo Mode
12 fps Electronic First Curtain and 15 fps Electronic Shutter Continuous shooting
Advanced A+ Assist with expanded array of auto-compatible scenes
Longer than 30min video recording
UVC/UAC compatibility for webcam and streaming
Compact and lightweight unidirectional stereo (120°) microphone
Tripod grip with bundled wireless remote control
US$999.99 US$849.99
An open source, paid model
Grayjay is an open-source application that doesn't rely on digital rights management (DRM) or anti-piracy measures. It respects users' digital privacy and offers a mature environment for responsible use.
The idea is to encourage users to support open-source software by contributing to its sustainability.
Grayjay is more than just an application; it's a mission to reshape the landscape of online video content. The goal is to liberate users from the dominance of the mainstream duopoly, putting creators back in the spotlight.
It aims to establish a direct and private connection between content creators and their audience, all while respecting digital privacy and user control.
While Grayjay is still in development, it offers a glimpse of a future where users and creators hold the reins of their online video experiences. It's an invitation to try a different approach, one that prioritises creators and viewers over platforms.
In the end, Grayjay is about empowerment, choice, and the belief that users should be customers, not products. It's a commitment to transparent and respectful relationships with users who value the software's true worth.
So, explore Grayjay, support open-source software, and be a part of this evolving era in online video viewing.
Announcement video: https://www.youtube.com/watch?v=5DePDzfyWkw&t=471s
_________________________
When you buy something through our retail links, we may earn commission and the retailer may receive certain auditable data for accounting purposes.
You may also like: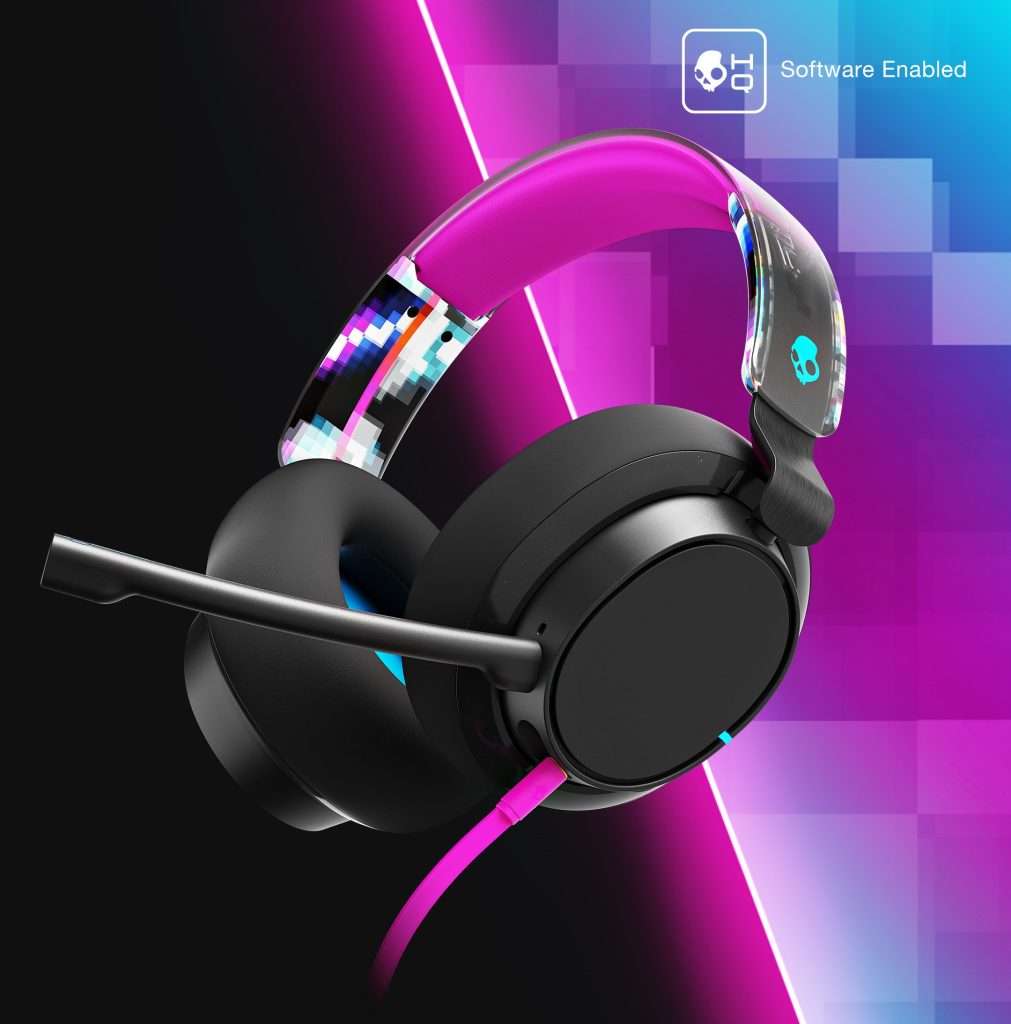 SLYR Pro is built with lightweight materials that are tough enough to stand up to years of play and plush memory foam ear cushions that conform to the shape of your head. Bring on the marathon, all-day gaming sessions — SLYR Pro is so comfortable you'll forget you're even wearing a headset.
US$99.99