The fruit and leaves of paw paw are so useful and beneficial that it makes the argument over its true name, taste, shape, colour, size and spelling insignificant. You may know the long orange fruit as papaya and the round yellow one as paw paw, pawpaw or papaw.
The shape of the fruit and leaves vary in different countries but the uses and benefits of the pulpy sweet ripe fruit, the white tasteless pomace of it when green, and the large palmately lobed leaves remain the same.
The scientific name is carica papaya and it contains enzymes like papain and chymopapain. The fruit is enjoyed ripe straight off the tree and when green it is cooked as a vegetable.
The leaves hold a high amount of vitamin A, C, E, K and B which are beneficial to health in many ways. They are drawn to make tea and juiced to obtain the green substance that is well known for its medicinal powers. Here are 15 amazing uses and benefits of the paw paw fruit when ripe and green, and the leaves of the tree.
15 amazing uses for paw paw fruit and leaves
Ripe Paw Paw
1. Fruit Salad
Papaya completes a fruit salad bowl with its bright orange or yellow colour and natural sugary flavour. Avoid mixing paw paw with watermelon, lemon or grapefruit as doing so may cause digestive problems. Here is an easy recipe for your bowl of fruit.
What you need
2 cups diced papaya
1 banana
1 apple
1 pear
2 grapes
1 mango
½ cup pineapple
Honey (optional)
Flavoured yogurt (optional)
What to do
Remove seeds and cut up the ripe pulp into small squares
Combine with slices of the banana, apple, pear, grapes, mango and pineapple
Add honey and yogurt for an extra sweet flavour
Have yourself a tasty healthy fruit salad.
2. Paw Paw Punch
Start your morning with a refreshing paw paw punch also called a smoothie or milkshake in some countries. This drink is a rewarding treat to enjoy right after an early morning walk, run, yoga or aerobics workout. It is delicious, nutritious and gives you the energy needed to start your busy day.
Some people add other fruits, essence, honey and sugar to their punch but this drink can be enjoyed with the straight natural flavour and sweetness that the paw paw fruit already provides. Here is a simple recipe to make and enjoy just before you start your day.
What you need
2 cups papaya pulp
2 cups full cream milk or 1 cup condensed milk
1 cup water
Vanilla essence (optional)
Sugar (optional)
What to do
Add ingredients to blender and puree
Serve chilled
3. Papaya Pudding
Papaya pudding is a popular delicacy made using different recipes across the world. The result is a thick, creamy, sweet and tasty dessert with a rich paw paw flavour.
While some people use sugar, gelatin, corn flour and lemon to make this pudding, a perfect papaya pudding can be made with less ingredients for an even healthier option. Here is a recipe with just 3 ingredients.
What you need
2 cups paw paw
2 cups heavy whipping cream
½ cup condensed milk
Sugar (optional)
What to do
Cut up the papaya and puree in blender
Whisk the heavy whipping cream
Add the condensed milk and sugar and whisk
Add the pureed paw paw to the mixture and whisk
Refrigerate for 3 hours
Serve chilled
4. Candied Papaya
Candied papaya or papaya candy is a delicacy created in several ways in different countries. People use both the ripe and green papaya, some add food colouring, spices and even
Using the half-ripe papaya adds the flavour of the papaya to your treat. Here is a simple recipe for the candy that is worth trying.
What you need
2 cups half-ripe papaya
8 cups water
2 tablespoons baking soda
2 cups sugar
2 cloves
1 cinnamon stick
What to do
Cut up the papaya into finger-like slices
Add baking soda to 4 cups water and mix
Soak papaya in mixture and then rinse off thoroughly in clean water
Spread papaya slices in wide saucepan
Add water until papaya is almost covered
Cover papaya with sugar
Throw in cloves and cinnamon
Put on low fire and evenly spread sugar over papaya slices
Let cook for 1 hour and 45 minutes or until candy is formed
Pour cooked mixture into container
Refrigerate for 4 hours
Serve for dessert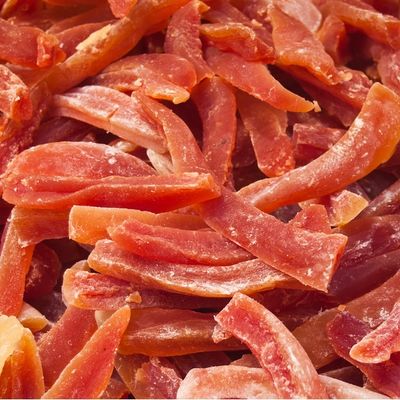 5. Constipation Reliever
Ripe paw paw is popularly used as a remedy to relieve constipation. The fibrous pulp works wonders on the colon as it helps backed up stool to move along with ease. A diet that includes the papaya fruit regularly makes digestion easy and bowel movements consistent.
A constipated person however can consume a large amount of papaya to help things move along in a short period. The sugar contents of the ripe fruit are high so diabetics should not use this remedy. Also, pregnant women should not use this remedy for constipation because it may induce labour.
6. Skin Lightener
Ripe papaya is not only good for eating but lightening skin when applied topically. The fruit is rich in vitamin C, an antioxidant that can reduce irregular pigmentation and stimulate collagen production. It contains vitamin A, another important nutrient for the skin. It promotes the production of new skin cells, and may help reduce dark spots, blemishes, and scars.
There are many products on the market such as soaps, face masks and body wash made with the papaya fruit that promote cleaner younger looking skin. You will get the same results when you make a paste for yourself.
You may apply papaya alone to your skin or combine it with other nourishing ingredients to improve your skin daily. If you have sensitive skin or open cuts, it is advised that you consult a dermatologist and not try the papaya remedy. The papain in it may do more harm than good.
If not, here are two methods for you to try. Use this remedy once or twice a day and watch your blemishes disappear within 6 weeks. For faster results, use a scrub once a week to exfoliate the dead skin cells.
What you need
4 cups ripe papaya
1 cup almond milk
3 tablespoons aloe vera gel
1 tablespoon lemon juice
1 tablespoon honey
2 tablespoons coconut oil, olive oil or melted shea butter
What to do
Method 1
Apply a generous amount of papaya pulp on affected area or entire face and body
Refrigerate the remainder for another treatment
Leave on for 5 minutes to make skin glow or 20 minutes to lighten dark spots
Rinse off
Method 2
Combine the 4 cups of ripe papaya with the other ingredients
Apply a generous amount of pulp on affected area or entire face and body
Refrigerate the remainder for another bath
Leave on for 5 minutes to make skin glow or 20 minutes to lighten dark spots
Rinse off
7. Hair Conditioner
Papaya is an amazing hair conditioner when applied to hair during treatment. As it is rich in minerals, vitamins and enzymes, papaya acts as a natural conditioner, making your hair softer and smoother. It prevents balding, repairs thinning hair and promotes hair growth.
Use of papaya in hair causes a thicker, longer and shinier look. When combined with ingredients that are also beneficial to hair, the results are greater. Be sure to test your paste on a small part of your head at least twice before using this remedy on your entire head. The papain in the papaya may not agree with your scalp. Here is a recipe that requires products that you may already have to give your hair special treatment.
What you need
4 cups ripe papaya
4 large spinach leaves (folic acid nourishes scalp)
1 cup almond milk
3 tablespoons aloe vera gel
1 tablespoon honey
2 tablespoons coconut oil or olive oil
What to do
Blend all ingredients until puree
Wash hair with usual shampoo and rinse
Apply papaya paste generously and massage into hair
Leave for 5 minutes and then rinse
Use this treatment once a month and monitor the effect it has on your hair. If there is a negative effect, stop use immediately.
Green Paw Paw
8. Paw Paw Balls
Enjoy this sweet bite-sized snack made with green paw paw. These balls are well-known homemade treats in the kitchens of Caribbean people with numerous papaya trees growing in their yards.
It is easy to make with ingredients already in your kitchen and it is sometimes wrapped in paper to serve to children. When entertaining, stick toothpicks in the balls and serve on a platter for dessert. Here is a recipe for the tasty snack.
What you need
2 cups green paw paw without skin (leave skin for bitter-sweet flavour)
Cheesecloth
Lime or lemon zest
1 tablespoon lime juice
2 cups granulated sugar
½ teaspoon vanilla essence
Colouring (one colour or more such as green, red, blue and yellow)
What to do
Grate paw paw with or without skin, or cut up and blend until mashed using very little water
Use cheesecloth to wring out liquid from grated or mashed papaya
Put dried papaya in pot and add lime or lemon zest, lime juice and essence
Add 1 cup sugar
Mix together in pot on low fire until a gel is formed
Take off heat
Mix in colouring – add one colour to entire pot or separate mixture into bowls to add different colours
Leave to cool
Spread remaining granulated sugar on cutting board
Scoop a teaspoon of the mixture and roll into sugar on board with palm
Form a ball by rolling the mixture between both palms
Serve paw paw balls for dessert
RIHANNA'S WAY: YOUR BEST SKIN IN 3 SIMPLE STEPS. CLEANSE. TONE. HYDRATE WITH SUN PROTECTION. FOR ALL SKIN TYPES.
Give it to me quick:
Get Rihanna's starter routine for your best skin in three simple steps, with this set of travel-size minis. It's a perfect way to try or travel with the Fenty Skin Start'rs.
9. Meat Tenderiser
The papain in papaya does wonders for meat by tenderising tough cuts. According to ChefSteps, "Tough meat is best when cooked at a relatively low temperature for a long period of time, and in a moist environment; this ensures that tough collagen becomes tender gelatin, yielding a succulent product that is easy to chew and enjoy."
Adding green papaya to your beef, pork, lamb or venison speeds up the cooking process and gives you tender succulent meat when you stew, bake, roast and grill.
The skin and whitish pulp of the green papaya are almost tasteless so it does not affect the flavour of your meat. The ripe papaya also tenderises tough meat but adds an extra flavour to it. Use this simple recipe to tenderise your tough cuts with green papaya.
What you need
Green paw paw (1 tablespoon per pound meat)
What to do
Cut out the seeds of the green papaya
Chop up papaya with skin
Blend into a paste
Add papaya paste to meat depending on the tenderness you desire
Freeze remainder of paste for later use
Add other seasonings to meat
Massage meat with papaya paste and other ingredients
Leave to marinate for at least 20 minutes before cooking
Note: Let your first try using this tenderiser method be the benchmark for you to decide if you should add more or less papaya paste for the tenderness you would like.
10. Pepper Sauce
Papaya is used in pepper sauce recipes for several reasons throughout the world. Cooks add a small amount of the ripe pulpy fruit to their recipe to create a flavourful sauce that is sweet, savoury and spicy.
They use it to make a thicker sauce, add volume and colour as the pulp is orange and creamy. There are also recipes called Papaya Hot Sauce where the main ingredient is a ripe papaya that is flavoured with hot peppers and green seasonings.
The green papaya is also used to make pepper sauce thick and plentiful. Since there is no taste, it is perfect for cooks to add more or less to create a tantalising spicy pepper sauce without the papaya flavour.
Also, the green papaya is used to make pepper sauce mild as it absorbs the contents of the peppers. In this case, a cook would add more green papaya until a sauce with a slight spicy flavour is achieved.
Here is a straightforward pepper sauce recipe for you to experiment with the green papaya to get the thickness and zesty flavour that you desire.
What you need
2 cups diced green papaya
15 Scotch Bonnet peppers
45 bird peppers
15 pimento peppers
1 onion chopped
3 chives chopped
1 head garlic, cloves peeled
1 ½ cups distilled white vinegar
2 limes, juiced
2 tablespoons olive oil
1 teaspoon yellow mustard
1 teaspoon salt
4 leaves thyme
5 chadon beni leaves
5 leaves celery
What to do
Wear gloves and goggles if you have sensitive eyes and skin
Set aside the green papaya
Add all the other ingredients to blender and puree
Taste the pepper sauce
Add the green papaya gradually, blend and taste until you are satisfied with the consistency and flavour
Store pepper sauce in a glass bottle and refrigerate
Serve with all meals
• Built to Take It All On
• 3.5 Quart Capacity for Smaller Batches
• Easily add Ingredients with the Tilt-Head Design
• Lighter. Smaller. Just as Powerful.
• 10 Speeds for Nearly any Task or Recipe
11. Papaya Salad
Use green papaya instead of potatoes in your famous side dish that includes green peas, carrots and mayonnaise to cut down on your carbohydrates. Potatoes carry 17 grams while the green papaya only has 11 grams and produces a very similar salad.
This recipe is perfect for diabetics to enjoy their favourite side dish without worrying about increasing their blood sugar. Here is a standard Potato Salad recipe for you to use green papaya as a substitution.
What you need
2 cups green papaya peeled and chunked
1 can green peas and carrots
1 large onion
2 tablespoons mayonnaise
1 teaspoon honey mustard
1 teaspoon sugar
What to do
Cut off skin and chop green papaya into small chunks
Let peeled and chunked papaya rest for 10 minutes for liquid to drain out
Rinse and boil papaya for 15 to 20 minutes until soft
Remove from pot and let cool
Drain peas and carrots and add to cooled papaya
Chop finely or grate the onion and add to bowl
Add mayonnaise, mustard and sugar to bowl, and toss the salad
Serve as side dish for lunch
by Presto
Six-tray system for dehydrating foods at a fraction of the cost of commercially dried foods with no additives or preservatives.
US$72.69
12. Curried Paw Paw
Cooking Curried Paw Paw is another recipe that you can enjoy instead of using potatoes. The green papaya creates a very similar look, feel and flavour of a Curried Potato dish but allows you to consume far less carbohydrates. Potatoes carry 17 grams while the green papaya only has 11 grams. When making a curried dish with roti, pumpkin, channa, meat and mango, try using this Curried Paw Paw recipe and enjoy the benefits.
What you need
4 cups green papaya
2 cloves garlic
1 medium onion
2 tablespoons combined green seasonings (chive, celery, parsley, chadon beni, thyme)
½ teaspoon salt
1 tablespoon curry powder
1 tablespoon ground geera
4 cups water
What to do
Remove skin and cut up papaya into chunks
Heat oil on medium fire; add chopped garlic, onion and green seasonings, then let cook for 3 minutes
Add ground geera and curry powder then stir pot
Mix in papaya, add water, salt, increase heat slightly and cover pot
Let simmer for 20 minutes or until some of the chunks create a thick flavoured sauce
Serve hot as a side dish with roti skin, paratha or rice.
13. Candied Fruit
The green papaya candied fruit is just as popular as using the ripe papaya except it has a different purpose. It is used to complement goodies such as sweetbread, fruit cake, bread pudding, pone, cupcake, muffin, bread, yogurt and ice-cream. The ripe papaya candied fruit is simply enjoyed as a candy stick.
The green papaya candied fruit that generally tastes like sugar and spice usually looks like tiny colourful dice that are inserted into pastries or use as topping. Here is a simple recipe for the candy to add some colour and extra sweet to your treats.
What you need
2 cups green papaya
2 cups sugar
2 cloves
1 cinnamon stick
Colouring
What to do
Dice the green papaya
Spread the diced papaya in wide saucepan
Add water until papaya is almost covered
Cover papaya with sugar
Throw in cloves, cinnamon and colouring
Put on low fire and evenly spread sugar over papaya
Let cook for 1 hour and 45 minutes or until candy is formed
Pour cooked mixture into container
Refrigerate for 4 hours
Use finished candy in other recipes
by Whirlpool
Get the storage you need in this refrigerator with water dispenser. An exterior refrigerated drawer keeps frequently used items within easy reach. This refrigerator with refrigerated drawers also gives you access to filtered ice and water without ever opening the door. Tap Touch controls are also as easy to clean as they are to use.
US$2339
Papaya Leaves
14. Tea
Drinking tea made from papaya leaves is said to be beneficial to health by reputable advocates. According to Healthline, the most prominent medicinal benefit of papaya leaf is its potential to treat certain symptoms associated with dengue fever.
Also, it may promote balanced blood sugar, support digestive function, have anti-inflammatory effects, support hair growth, promote healthy skin and have anticancer properties.
WebMd states that papaya contains a chemical called carpain which seems to be able to kill certain parasites, and it might affect the central nervous system. It may also have antibacterial, antifungal, anti-viral, anti-inflammatory, antioxidant, and immune-stimulating effects.
Many people drink the papaya leaves tea to help treat stress, asthma, bone health, diabetes, digestion, heart health, cancer and even Parkinson's Disease. If using the papaya tea, avoid overuse of carpain, papain and chymopapain by consuming small amounts of the tea daily to help prevent serious diseases.
However, it is advised that you consult with a medical doctor for treatment of a serious condition and avoid self-medicating with natural remedies. Here is an easy tea recipe for you to build your immune system and maintain good health.
What you need
2 papaya leaves
5 cups water
1 bay leaf
1 cinnamon stick
Ginger (optional)
Sugar or honey (optional)
What to do
Wash and chop the papaya leaves into smaller parts
Bring water to a boil
Add papaya leaves, bay leaf, cinnamon and ginger
Let boil for 5 minutes
Take off fire and let cool
Add sugar to taste and drink a cup a day
15. Raw Papaya Juice
Drinking the raw juice from papaya leaves is a popular natural remedy for treating sickness associated with colds. During outbreaks of the seasonal flu and sinus attacks that have populations coughing, sneezing and sniffling, the word spreads around that the answer is raw papaya juice.
When there is an alert for diseases being spread by mosquitoes such as chikungunya, yellow fever and dengue fever, the papaya trees are immediately stripped of their leaves all over the Caribbean. The general consensus is that the raw papaya juice relieves all symptoms including severe headache, chills, fevers, joint pains, nausea and vomiting.
To ensure that you consume a safe dosage of this medicine if you become affected, drink a shot glass a day. Here is the recipe for this natural remedy.
What you need
5 papaya leaves
What to do
Using a juicer
Juice the leaf
Add salt and stir
Shot the juice to avoid bitter taste on tongue
Using a blender
Wash and chop the papaya leaf into smaller parts
Blend it with a very small amount of water
Squeeze out the juice with a cheesecloth
Shot the juice to avoid bitter taste on tongue
Conclusion
Paw paw or papaya has so many benefits that it is worth planting your own trees around your home. Share these 15 amazing uses, recipes and benefits of paw paw leaves, and fruit when ripe and green. Give the article and video a thumbs up, and subscribe to our YouTube channel to see more content that you would find enjoyable.
When you buy something through our retail links, we may earn commission and the retailer may receive certain auditable data for accounting purposes.
_____________________________________________
You may also like:
GALAXY S21 5G VS GALAXY S21+ 5G VS GALAXY S21 ULTRA 5G SPECS
| | | | |
| --- | --- | --- | --- |
| | Galaxy S21 | Galaxy S21 Plus | Galaxy S21 Ultra |
| Display size, resolution | 6.2-inch Flat FHD+ Dynamic AMOLED 2X Infinity-O Display (2,400×1,080 pixels), | 6.7-inch Flat FHD+ Dynamic AMOLED 2X (2,400×1,080 pixels) | 6.8-inch Edge WQHD+ Dynamic AMOLED 2X (3,200×1,440 pixels), |
| Pixel density | 421 ppi | 394 ppi | 515 ppi |
| Dimensions (Inches) | 2.80×5.97×0.31 in | 2.97×6.35×0.30 in | 2.97×6.50×0.35 in |
| Dimensions (Millimeters) | 71.2×151.7×7.9 mm | 75.6×161.5×7.8 mm | 75.6×165.1×8.9 mm |
| Weight (Ounces, Grams) | 6.03 oz; 171g | 7.12 oz; 202g | 8.07 oz; 229 g |
| Mobile software | Android 11 | Android 11 | Android 11 |
| Camera | 64-megapixel (telephoto), 12-megapixel (wide-angle), 12-megapixel (ultra-wide) | 64-megapixel (telephoto), 12-megapixel (wide-angle), 12-megapixel (ultra-wide) | 108-megapixel (wide-angle), 12-megapixel (ultra-wide), 10-megapixel (telephoto), 10-megapixel (telephoto) |
| Front-facing camera | 10-megapixel | 10-megapixel | 40-megapixel |
| Video capture | 8K | 8K | 8K |
| Processor | Snapdragon 888 or 64-bit Octa-Core Processor 2.8GHz (Max 2.4GHz +1.8GHz) | Snapdragon 888 or 64-bit Octa-Core Processor 2.8GHz (Max 2.4GHz +1.8GHz) | Snapdragon 888 or 64-bit Octa-Core Processor 2.8GHz (Max 2.4GHz +1.8GHz) |
| Storage | 128GB/256GB | 128GB/256GB | 128GB/256GB, 512GB |
| RAM | 8GB | 8GB | 12GB, 16GB |
| Expandable storage | No | No | No |
| Battery | 4,000 mAh | 4,800 mAh | 5,000 mAh |
| Fingerprint sensor | In-screen | In-screen | In-screen |
| Headphone jack | No | No | No |
| Special features | IP68 rating, 5G-enabled, 30X Space Zoom, 10W wireless charging, | IP68 rating, 5G-enabled, 30X Space Zoom, 10W wireless charging, | IP68 rating, 5G-enabled, 100X Space Zoom, 10W wireless charging, 10x optical zoom; S Pen support |