Women and men are wearing their natural hair of all textures proudly all over the world. This is not a fad like in the 70s when the natural afro-textured hair was a big hit among people of all races that phased out by the eighties. Natural hair has become prominent in the 21st century since big and small businesses are making it easier to manage any hair texture in any climate without using harsh chemicals.
Afro-textured hair and discriminators
While the term "natural hair" covers all types of hair, it has become synonymous with "Afro-textured hair" that is not treated with chemicals. Since this type of hair is constantly discriminated against by the self-proclaimed fashion police officers who adhere to rules about the taming of waves, curls and tightly coiled hair, it is known to be commonly treated with chemicals, and in many cases, to satisfy these rules.
But, as advocates for natural Afro-textured hair grow rapidly and you see afros, kinky curls, cork screws, cane rows and dreadlocks in large numbers, the discriminating population is fast becoming outnumbered and would need to either conform or keep their opinions to themselves.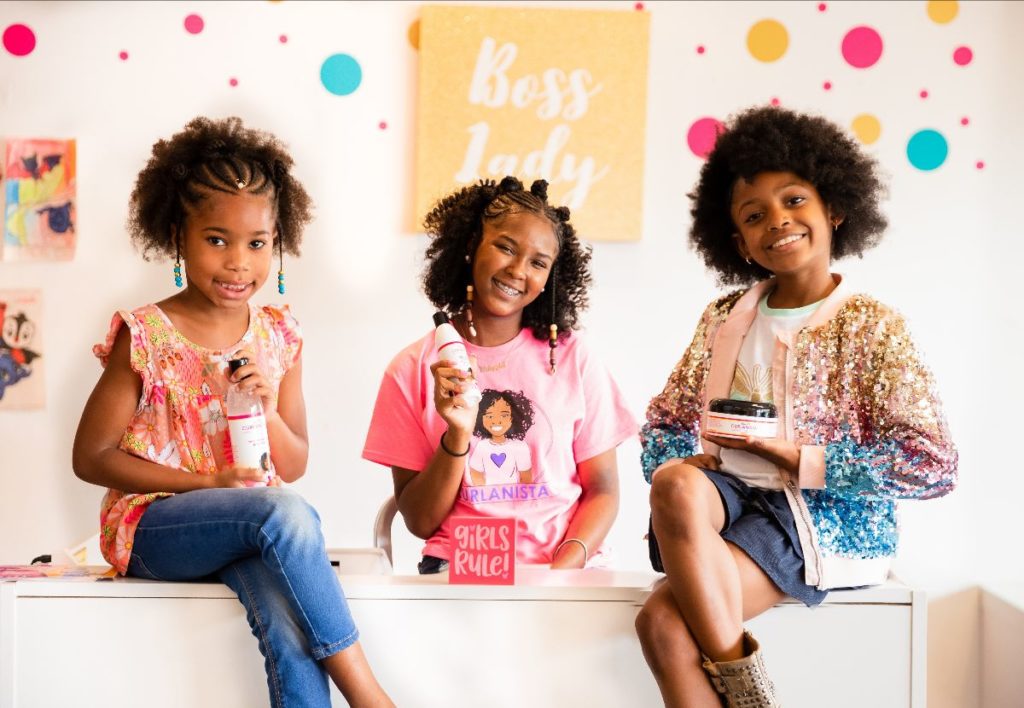 Curlanistas hair care products
Curlanistas is a company based in the USA that provides hair care products, motivational stories and guides on how to build confidence and empower young girls looking to unlock their potential and pursue their dreams. Lexi P who founded Curlanistas at age 14 says, "When I was younger, I got teased about how big my hair was and I did a lot of damage to my hair trying to fit in. My mom begged me to be myself and go back to my natural hair. I found that I actually loved it (source)." She welcomes naturally curly girls, ages 6-16, into the Curlanista BO$$ Network where they learn how to become curl-bosses while inspiring other girls to love their natural hair.
Happy Curls, Happy Girls natural hair products
Caribbean Beauty by Zakiya Mills
Happy Curls, Happy Girls, a family business in Trinidad, provides a range of natural hair products for healthy beauty. The company was started by two sisters who experimented with hair and skin products for personal use after learning that their favourite "cosmetics had the potential for irritation, hormone disruption, bio-accumulation and possible carcinogens" (source). On social media, the company promotes, "We believe that while each individual's hair is unique, hair care doesn't have to be complicated… hair care means everyone in every climate wins."
Caribbean Beauty by Zakiya Mills is a hair, face, bath and body line launched in March 2019 in Trinidad. The founder Zakiya Mills "understands that her mission is to be an inspiration to those who have been through a life of adversity and allow them to peel away the layers of guilt, shame, hurt and pain, to uncover their true self and move on their journey to living a life of purpose, prosperity and success. (source)." She invites persons to make her products their preferred choice to help contribute to her dream of building and maintaining an orphan home for boys and girls in need.
You may also like:
Grow long hair with natural shampoo
Easy ways to relax your nerves
Best shoes for rain, flood and mud
How to lower your blood sugar daily
Lose belly fat after 6 easy changes
What are the chances of success if you live in a poverty-stricken community? We hear people talk about their place of residence being the main reason they fail at school, work or as parents. Is being poor a viable reason for aggressive behaviour, a disrespectful attitude, bad grades, unemployment, or criminal actions?